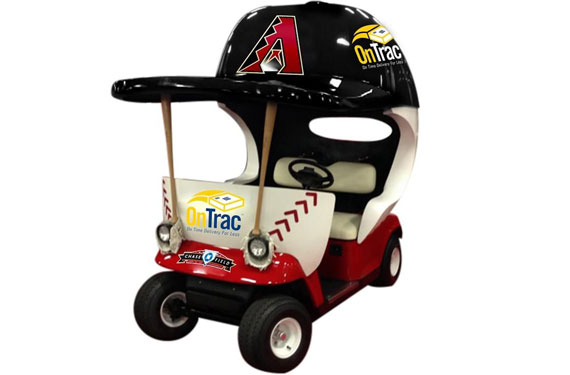 Every era of baseball has had its crazy, ridiculous quirks. In the earliest days of the game, you could get a baserunner out by pegging him with a thrown ball. Until 1863, a batter was out if a fly ball was caught on one bounce. And in 1973, rules makers thought it would be super hilarious to make it so that a guy could bat in the lineup without having to play defense—like he's half a baseball player but he gets to wear the whole uniform!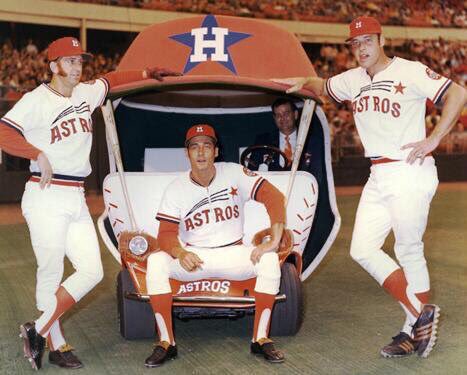 One baseball quirk many of us remember in our lifetimes is the era of the bullpen cart, those amazing on-field vehicles of various shapes and sizes (but mostly shaped like baseballs with caps on them) that hauled players around the field. From the early 1950s through 1995, these carts carried relief pitchers entering a game the otherwise-exhausting distance from the bullpen to the pitcher's mound.
There had been some chatter recently about bringing bullpen carts back, ostensibly as a method to shave precious seconds off MLB game times, though more likely as a nod to nostalgia and a way to sell sponsorships. But until an important announcement was made this week, that notion was pure speculation.
This is actually happening.

Introducing the OnTrac Bullpen Cart! #GenerationDbacks pic.twitter.com/K0eTiED5f9

— Arizona Diamondbacks (@Dbacks) March 6, 2018
The team that ended the bullpen cart drought was not the first team to transport players with a vehicle (the White Sox, in 1951), nor was it the team who revolutionized the vehicle by making it baseball-shaped (the 1967 Mets), nor was it the Brewers, who were the last MLB team to cart players onto the field in 1995. No, the team was baseball's fashion makers, the Arizona Diamondbacks, who didn't play their first season until two years after Milwaukee's bullpen Harley Davidson was shelved, ending an era. Arizona this week unveiled plans to feature a bullpen cart (sponsored by OnTrac!) for their 20th-anniversary season in 2018.
I for one applaud this move by the Dbacks. I hope most teams follow suit—not just because when I was a kid I was convinced that my first car was going to be either KITT or a golf cart wearing a giant Phillies cap—but because I believe in fun. I believe baseball needs more celebrations, more youthful enthusiasm, and more fun. These be-hatted bullpen vehicles are the ice cream helmet sundaes of player entrances. Sure, you can eat ice cream out of a regular bowl, but WHAT'S THE POINT?
On March 29, Opening Day, I will have my MLB Extra Innings subscription tuned to the game at Chase Field in Phoenix, hoping that starter Zack Greinke (I assume) gets shelled by the Rockies and the Dbacks have to go to the bullpen early and often. I don't have anything against Zack Greinke—I just want to see that cart over and over again.