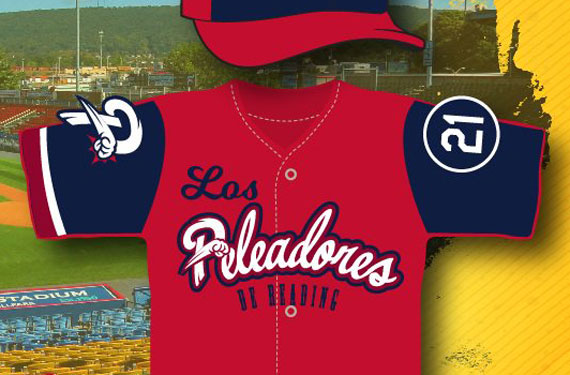 The Reading Fightins, double-A affiliate of the nearby Philadelphia Phillies, will change their name to Los Peleadores de Reading ("The Fighters of Reading") for one game August 22 to commemorate Latino Heritage Night this season. The uniforms feature the teams feathery script (because their identity is based on an ostrich) and its signature punching ostrich fist. (If you're curious, click here for how come their identity is based on an ostrich.)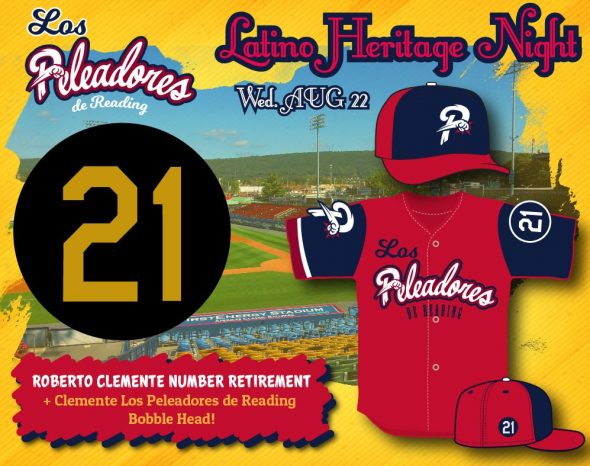 As part of their Latino Heritage Night, the Fightins will also honor Puerto Rican baseball legend Roberto Clemente. The team will retire Clemente's number 21 in a ceremony and give away a Los Peleadores de Reading bobble head to the first 2,500 fans. The promotional Los Peleadores jerseys and hats will feature number 21 patches in honor of Clemente.
The Fightins are honoring Clemente despite the fact that he never played for them. His only minor league season was spent in the Dodgers' farm system with the Montreal Royals in 1954. He played his entire Major League career from 1955 to 1972 with the Pittsburgh Pirates (who are in the same state as Reading, but are still more than 250 miles away).
The jerseys will be auctioned off after the game.