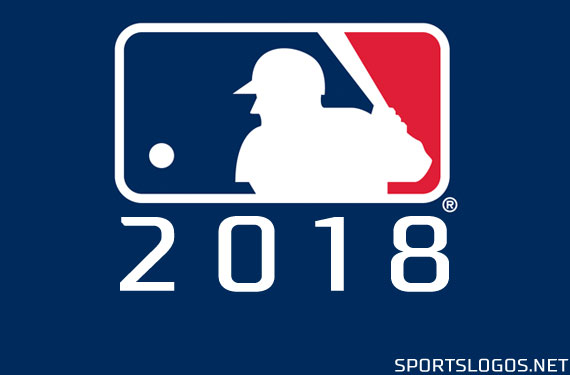 Major League Baseball is set to open their 2018 championship season tomorrow with a full-slate of ball games, the first time every team in the league has opened the season on the same date in fifty years! Incredible.
The off-season can be long (and cold and dark…), we know how easy it can be to miss some of the changes to team uniforms and logos during that annual terrible stretch without baseball. Here, we have rounded up all the changes as well as special uniforms which will be worn throughout the league and presented them on a team-by-team basis.  If you don't see your team, they didn't make any changes.
There are some league-wide specialty jerseys and caps which will be worn, we did not include those in each team since they're all the same, really. So, we'll start with the league-wide stuff and then move on to each team below.
League-Wide Uniforms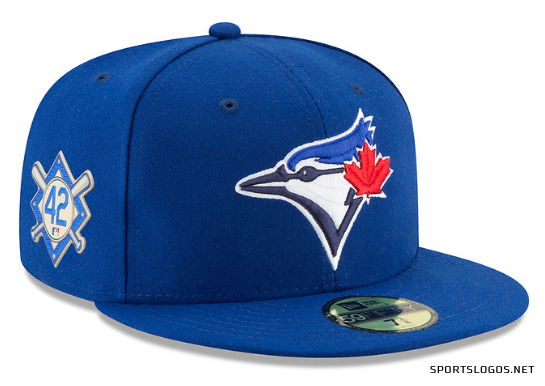 Across the league, all thirty teams we wear a special patch on the side of their caps and jerseys, as well as commemorative socks in honour of Jackie Robinson Day on April 15th. As usual all players will be wearing jersey number 42 on this day.
Once again there will be special uniform designs for all the holidays: Mother's Day, Memorial Day, Father's Day, and the Fourth of July. Mother's and Father's Day will see only special caps this year with just a ribbon attached to the usual team jersey, they will also only be worn on the Sunday instead of the entire weekend as was the case the past two seasons.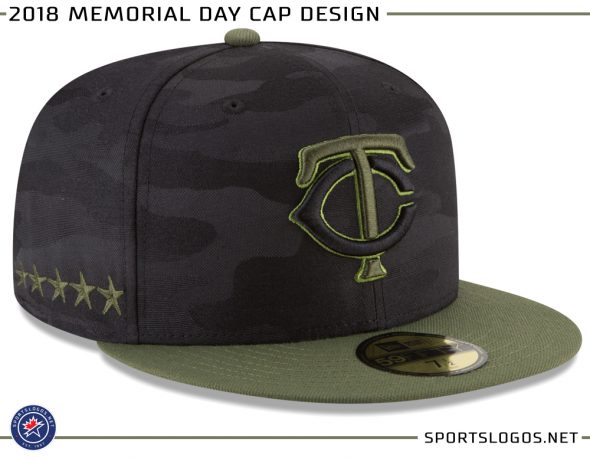 Memorial Day and Fourth of July uniforms will both be worn over the course of the entire holiday weekend, jersey designs are the same as worn in 2017 but there are new cap designs for both.
Much more details on all of the holiday uniforms across Major League Baseball here.
The league has not yet unveiled their 2018 All-Star Game uniforms nor have they made any announcement about if Players Weekend will be returning; the Little League Classic which kicked off Players Weekend last year *is* returning so it's a safe bet that we'll hear something about this soon enough.
For the playoffs we've now seen both the 2018 World Series and Postseason logos, both of which give us a good idea of what will be used as jersey and cap patches for those lucky ten teams to qualify come October.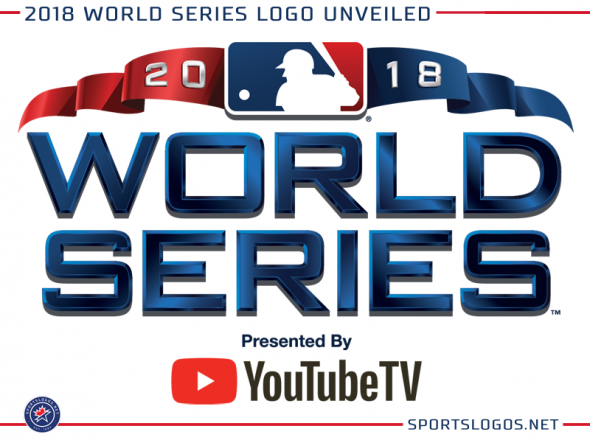 The logo for Opening Day has gotten a whole new look for 2018, it's the first change we've seen in the logo for this event in four seasons:
And now, on to the teams…
Arizona Diamondbacks
As part of their 20th anniversary celebrations, the Arizona Diamondbacks will be wearing a series of throwback uniforms throughout the 2018 season. The uniforms were chosen to represent memorable seasons in D-backs history: their 1998 expansion season and each year the club made the postseason. In total there will be six throwbacks worn representing 1998, 1999, 2001, 2002, 2007, and 2011. When they're not wearing a throwback uniform, the Diamondbacks will be sporting a 20th anniversary patch on their usual home/road/alternate jersey right sleeve.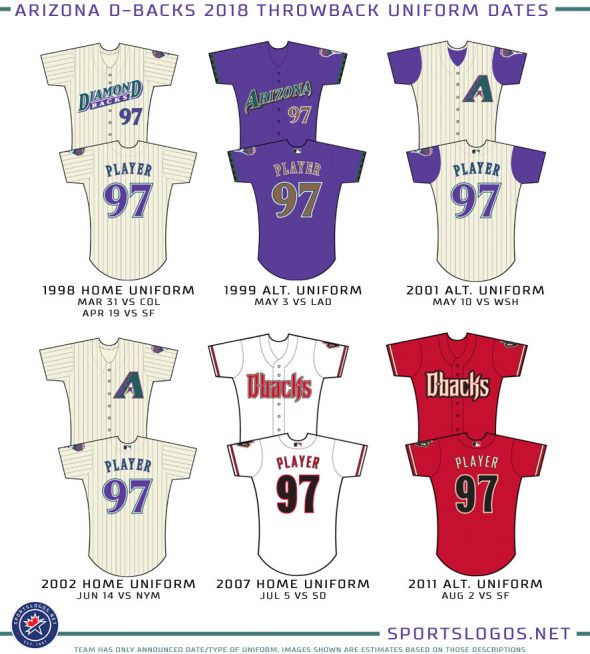 Arizona also eliminated all of their caps in which they wore the "snake-D" logo on the front, one was red with the black gradient pattern and designated as their "Alternate 3 cap", the other was all red and titled "Alternate 4". The gradient cap with the "A" logo on the front remains, as does the black and teal cap, and the snake head. This brings the total amount of D-backs caps down from five to three… excluding all the throwback games this season, of course.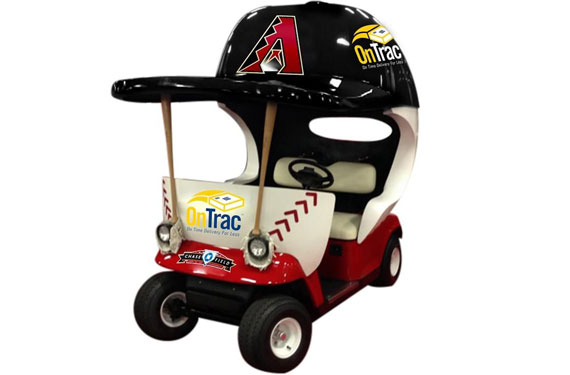 The best thing the D-backs may have done has nothing to do with uniforms at all, the return of the bullpen cart! Let's hope this trend catches on and we can enjoy seeing the glitzed up golf carts zipping from the bullpen to the mound all over Major League Baseball for years to come.
***
Atlanta Braves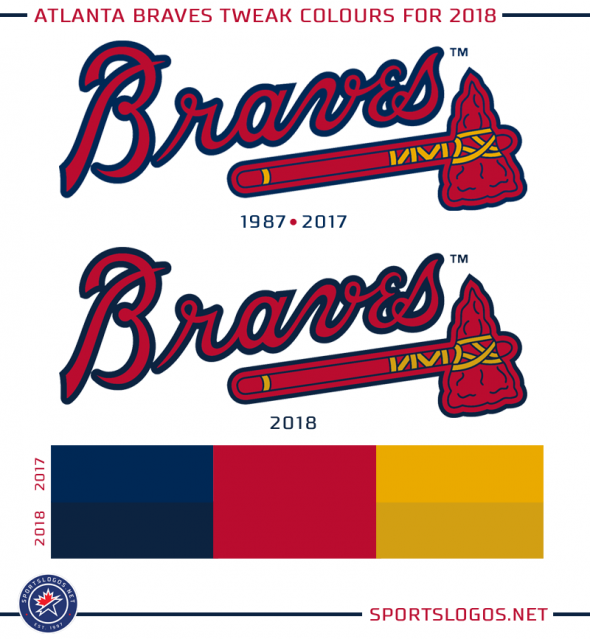 The Atlanta Braves made a change that typically would've gone unnoticed, they slightly modified the official shade of their blue and gold on their logo. See the graphic above for the side-by-side.
The team also introduced a new "Chop" cap which is listed as an official alternate cap in the style guides but nothing more than a batting practice cap on the MLB Shop; there is a promotion scheduled for May 15th called the "Chop On Giveaway" so perhaps they'll be worn during that one game.
Atlanta has a "Los Bravos" night scheduled for September 16th which they may or may not wear special jerseys for.
***
Baltimore Orioles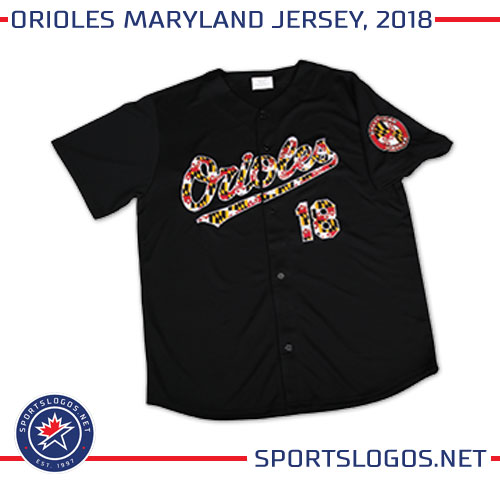 Baltimore is expected to wear a new Maryland Pride uniform on July 14th against the Texas Rangers, according to their promotional schedule the jersey will be black this year and once again incorporate Maryland's unique flag pattern into the "Orioles" scripted wordmark across the front.
***
Chicago Cubs
The only change to the Chicago Cubs uniform this year is the removal of the 2016 World Series Champions patch. The team has a jersey giveaway scheduled for July 24th during which fans will be given a 1979-81 road jersey.
***
Chicago White Sox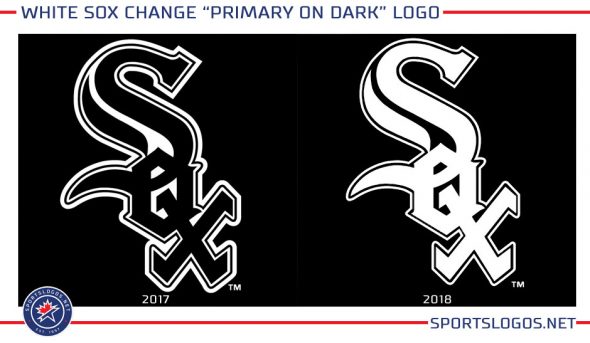 Chicago made an extremely minor change to their style guide, their "primary on dark" logo is now white instead of black — this will result in no change to uniform, just to how the logo is displayed officially by the club and their partners. A couple of jersey giveaways by the club include May 5th which is a "Los White Sox soccer jersey" giveaway, and on June 2nd they're giving away a 1983 road jersey.
***
Cincinnati Reds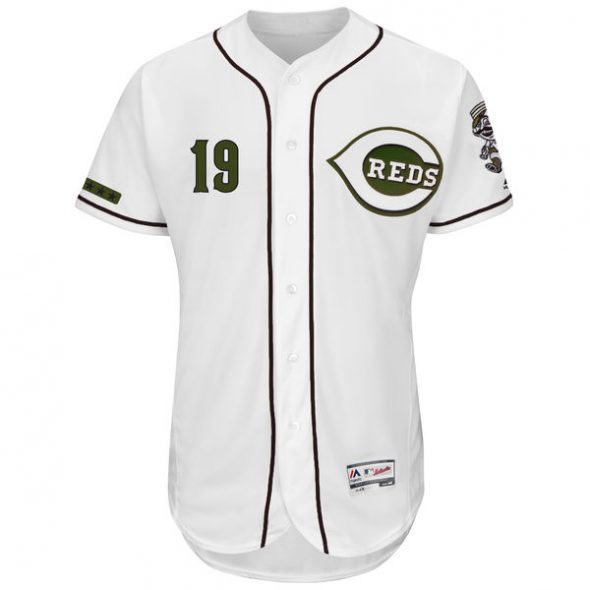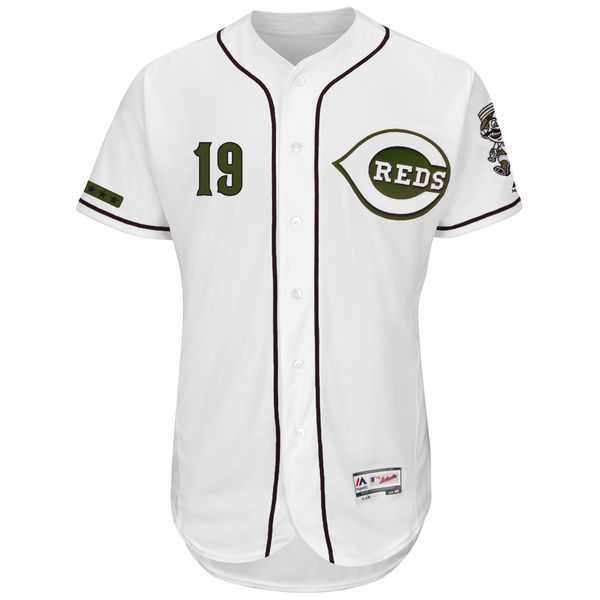 The Cincinnati Reds dropped their camouflage alternate uniform from 2017 and replaced it with the design above, now matching the style used across Major League Baseball on Memorial Day weekend in 2017 and 2018. The team is also expected to wear their "Los Rojos" alternate uniforms on May 5th.
***
Cleveland Indians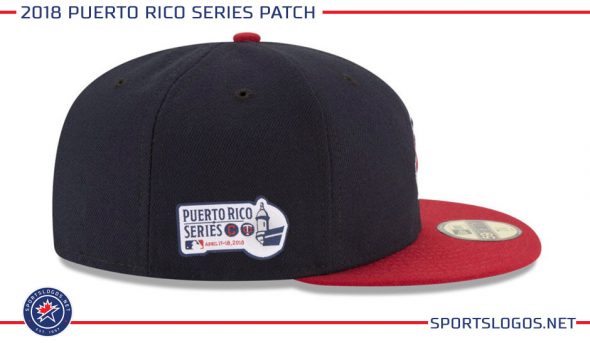 No changes to the Cleveland Indians this season, though there will be plenty in 2019. The team will wear a Puerto Rico Series patch on their caps for their two-game set at San Juan against the Minnesota Twins on April 17th and 18th. There's also a couple of jersey giveaways throughout the season which may or may not be worn by the team on those dates — on May 26 they're giving away a 1988 home jersey and on September 1st they'll be handing out 1948 road greys.
***
Colorado Rockies
The Colorado Rockies are celebrating their silver anniversary with a special anniversary home cap featuring their usual interlocked "CR" logo now completely in silver. With the new cap comes a 25th anniversary patch which will be worn on all jersey sleeves except for their sleeveless jersey where it will be moved to the front.
There's one jersey giveaway scheduled for June 23rd, the team will handout 1993 road jerseys, just like the team wore for their first game.
***
Detroit Tigers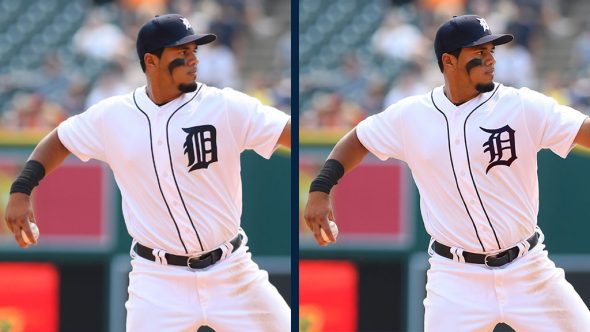 Detroit made an adjustment to their uniform which will surely please those with OCD; the new home jersey logo now matches the logo long worn on the Tigers caps – the previous jersey logo (see above image for reference) will be eliminated by the team completely. With the change also comes an increase in size to the logo worn on their home and road caps.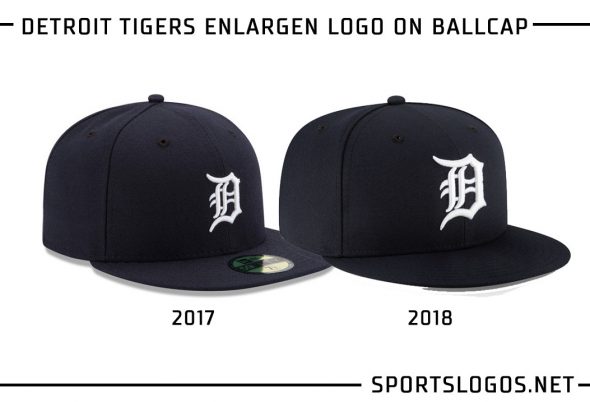 The Tigers are hosting their annual Negro Leagues weekend, this year from June 8-10 against the Cleveland Indians where they are expected to wear Detroit Stars uniforms for at least one of those games. They will be wearing Detroit Stars road uniforms in Kansas City as part of the Royals Negro Leagues celebration on May 6th, a photo of those in the Royals section of this preview.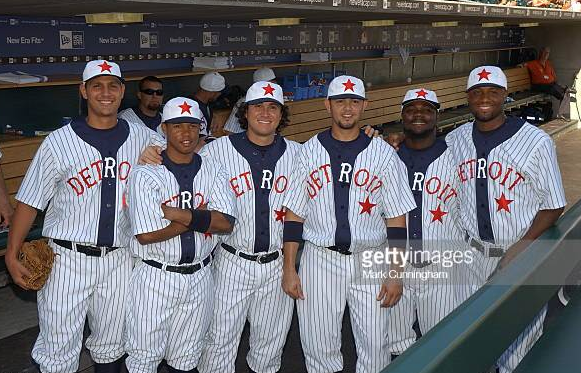 On August 11th the team is holding "Tigres Night" where they should break out their Spanish language uniforms with a scripted "Tigres" wordmark across the front. There's a 1968 road jersey giveaway on  September 8th which could be an indicator of plans for a throwback night.
***
Houston Astros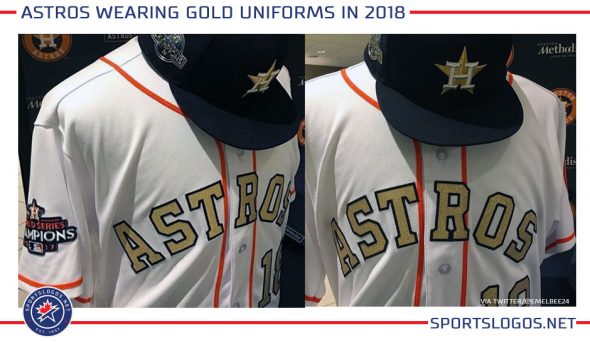 To celebrate their 2017 World Series Championship the Houston Astros will wear special gold trimmed versions of their usual home white uniforms against the Baltimore Orioles on April 2nd and April 3rd. Houston will also be wearing a 2017 World Series Champions patch on their jersey sleeve throughout the 2018 season.
Houston will break out the rainbow uniforms once again for 1979 throwback night on August 10th where they will battle the Seattle Mariners who will also be wearing their 1979 throwback uniforms. There's also a Hispanic Heritage Street Fest scheduled by the team from September 14-16 where they'll likely wear their Los Astros uniforms at least once.
***
Kansas City Royals
Kansas City is marking their 50th season (not anniversary) with a new 50th season patch to be worn on all uniform sleeves in 2018.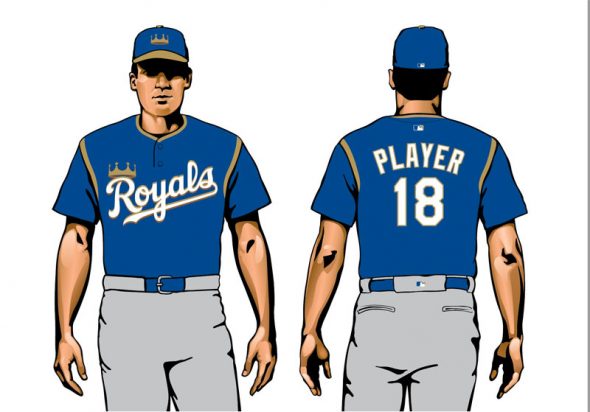 The Royals will also get to take part in the most interesting uniform promotion of the season, the 20th anniversary Turn Ahead the Clock game in Seattle on June 30th where they'll be wearing a futuristic version of their current set (graphic above).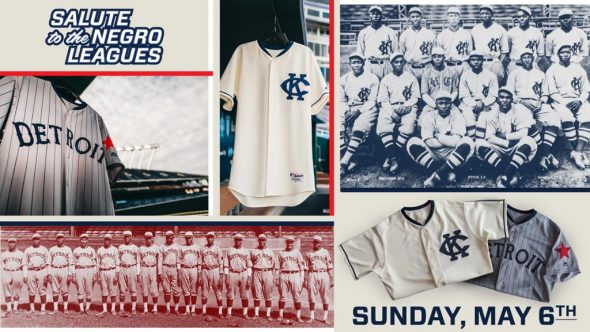 The Royals are hosting a Salute to the Negro Leagues where they'll wear Kansas City Monarchs uniforms against the Detroit Tigers on May 6th, Detroit will be wearing the uniforms of the Detroit Stars. Kansas City will also wear their Los Reales Hispanic uniforms on September 1st against the Baltimore Orioles.
***
Los Angeles Angels
The Anaheim-based Los Angeles Angels are holding a "throwback homestand" from August 24th to August 25th against the Houston Astros, we're not sure if this includes wearing throwback uniforms but there is a retro 1980s California Angels jersey giveaway scheduled for the 24th.
***
Los Angeles Dodgers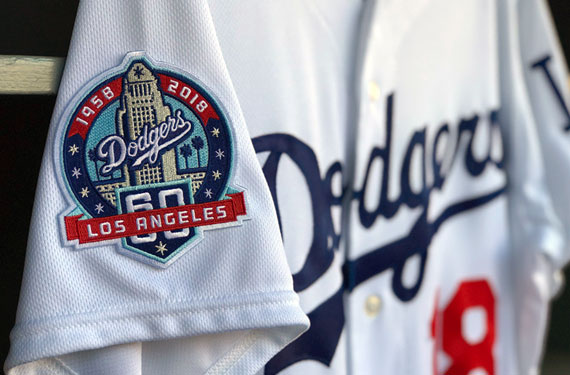 The Los Angeles Dodgers will be wearing a special 60th anniversary patch on their jersey sleeves to  celebrate the anniversary of their 1958 move from Brooklyn to Los Angeles.
***
Miami Marlins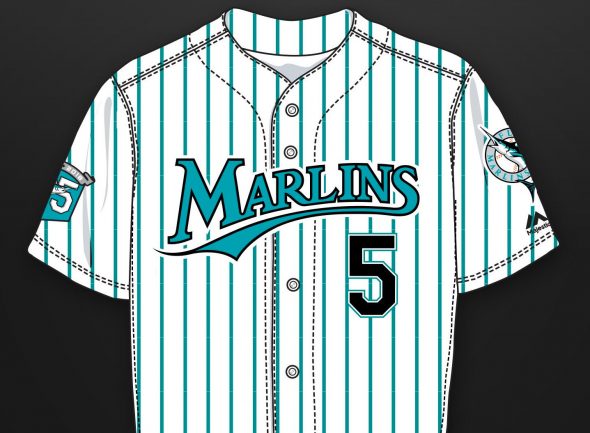 The Miami Marlins are celebrating the 25th anniversary of their 1993 expansion season, back when they were the Florida Marlins, by wearing throwback uniforms for a series of games June 8th, 9th, and 10th against the San Diego Padres.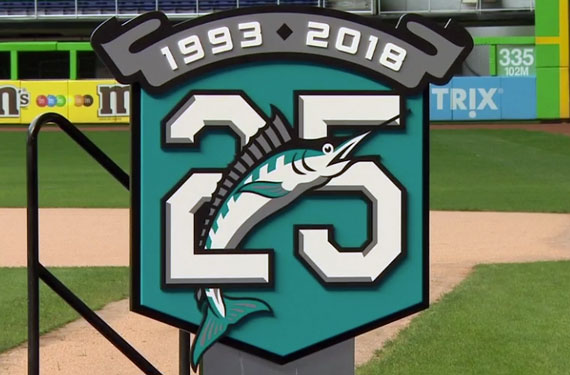 As part of the 25th anniversary celebration the team also unveiled a special 25th anniversary logo which shows absolutely no connection to the Miami Marlins logo or colour scheme; it's as if the last seven seasons never happened.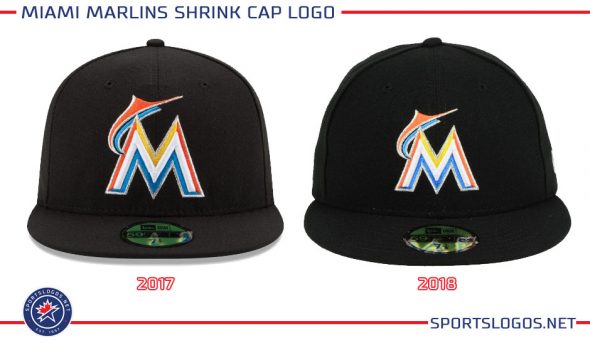 Also just pointed out to us earlier this week, it looks like the Marlins have shrunk the size of the logo used on their on-field cap. No confirmation here, just going by the stock images used by Lids in 2017 and 2018. Certainly appears smaller.
***
Milwaukee Brewers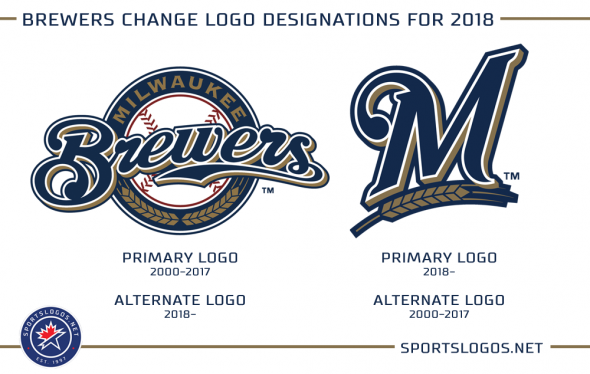 The Milwaukee Brewers made a long expected change to their primary logo, just not the change we were expecting. Instead of going back to the retro 80s "mb" full-time, the team went with their M/barley mark used on their primary home/road caps since the 2000 season; the previous primary logo shown above has been demoted to an alternate logo.
Milwaukee has also scheduled their annual Hispanic heritage night, when they typically wear their "Cerveceros" jerseys, for July 7th; and there's a navy blue 1970s style retro jersey giveaway on July 8th, no idea if they'll wear throwbacks for that one.
***
Minnesota Twins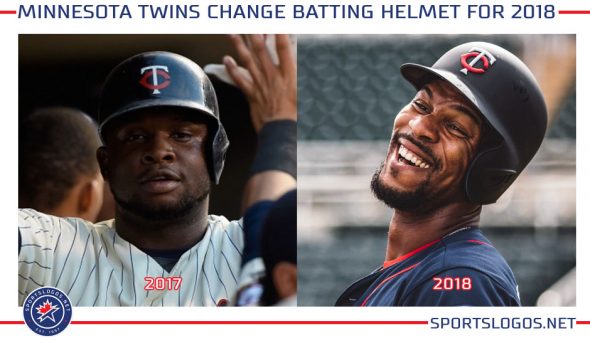 The Twins will now be wearing matte batting helmets with a three-dimensional logo decal on the front. The change apparently came at the suggestion of Donna Pohlad, wife of Twins owner Jim Pohlad. The 3D "TC" logo rises "about a quarter-inch off the surface" according to the Minneapolis Star-Tribune.
From April 17th to 18th the Twins will be playing a pair of games in San Juan, Puerto Rico. As part of that series the team will be wearing special patches on their caps. See the Cleveland Indians section earlier in this post for a look at the patch.
***
Oakland Athletics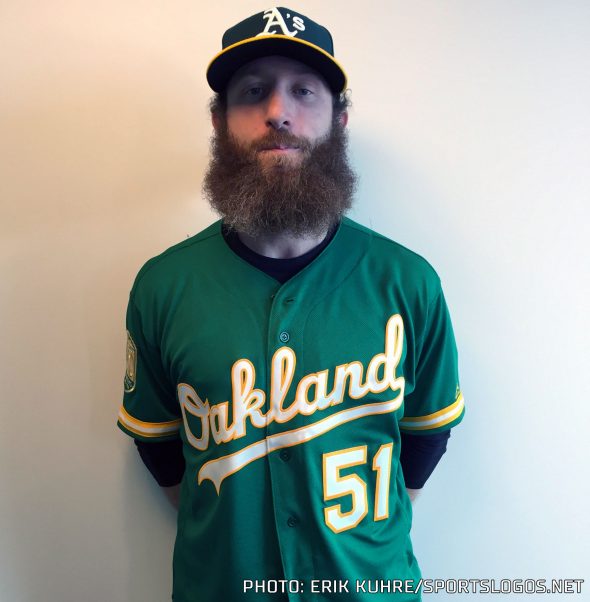 The Oakland Athletics are celebrating their 50th anniversary since moving from Kansas City to the Bay with a new "kelly green" alternate jersey and cap which will be worn for every Friday home game as well as a 50th anniversary patch on all jersey sleeves.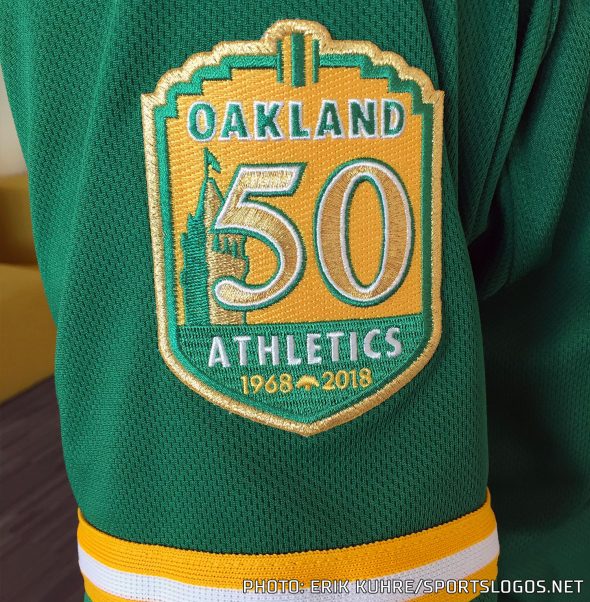 The A's have a Hispanic Heritage Night scheduled for September 9th where they may wear "Los Atléticos" uniforms.
***
Philadelphia Phillies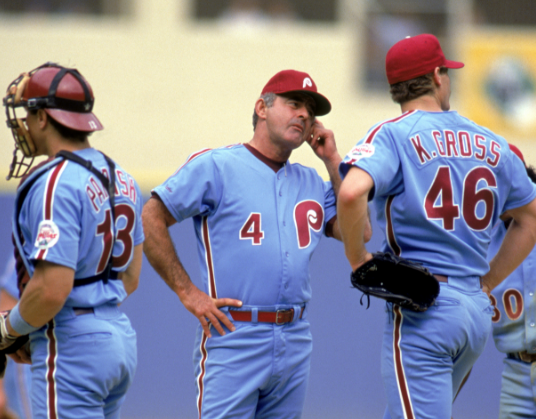 The Phillies will be doing a series of throwback games in which the team will wear powder blue uniforms based off those worn by the club in the early 1980s. The uniforms will be worn on April 19th, April 26th, May 10th, June 14th, and June 28th.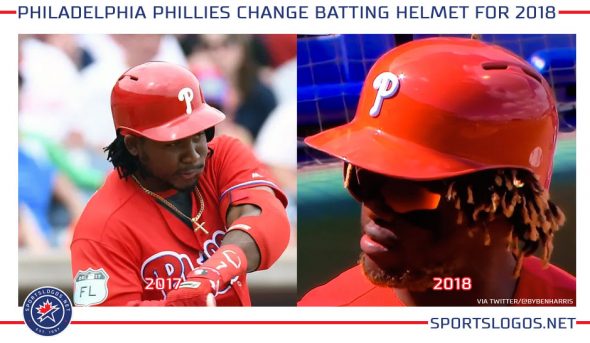 Like the Twins, Philadelphia also made a change to their batting helmet, the flat logo decal has been replaced with a new three-dimensional graphic. Unlike the Twins, the new helmets are not a matte finish and retain their "shinyness".
***
Pittsburgh Pirates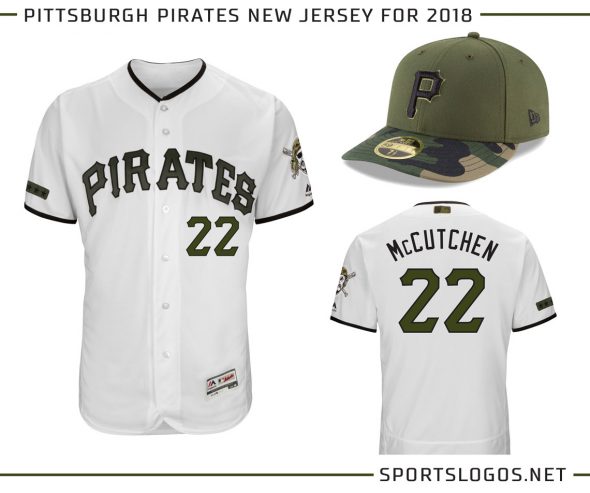 Like the Reds, the Pittsburgh Pirates have replaced their camouflage style alternate uniform from last year with the Memorial Day weekend cap and jersey design used across Major League Baseball in 2017 and again for 2018.
***
San Diego Padres
The Padres are doing a series of "Wayback Wednesday" games in which they'll wear throwback uniforms, they appear to be the 1990s style home uniforms worn during the 1998 World Series (20th anniversary!): June 6th, June 20th, July 11th, August 15th, August 29th.
There's a Hispanic Heritage Weekend scheduled for September 14-16th but the team already wears their Spanish name on their uniform so… probably no changes there.
***
San Francisco Giants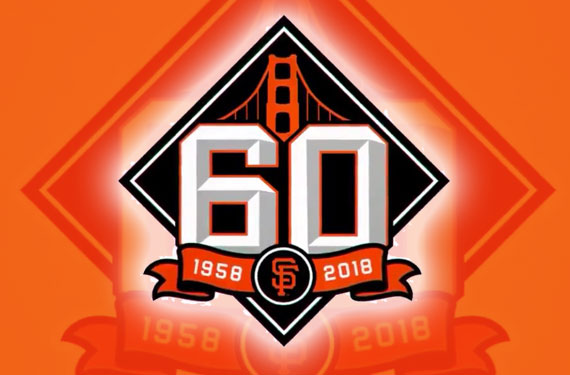 The San Francisco Giants, like the Los Angeles Dodgers, are marking 60 years since moving from the New York area to the west coast. The Giants will be wearing a 60th anniversary patch on their jersey sleeves to mark the round number.
***
Seattle Mariners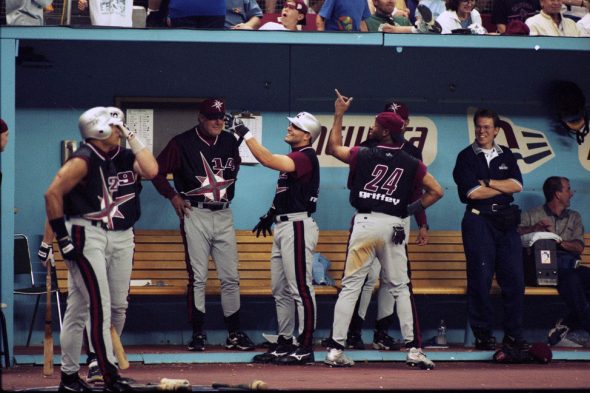 This one will be fun… the Seattle Mariners are marking twenty years since their in/famous "Turn Ahead The Clock" game from 1998, again against the Kansas City Royals on June 30th; while the Royals will be wearing a new uniform the Mariners will be wearing the same design they wore in 1998 (see pic above).
Seattle will also be taking part in a throwback game on the road when they wear their 1979 powder blue throwbacks (oh please include the 1979 All-Star Game patch) in Houston against the rainbow-jerseyed Astros on August 10th.
***
St Louis Cardinals
St. Louis is hosting a Negro Leagues tribute game where I'm expecting they'll be wearing St. Louis Stars uniforms against the Philadelphia Phillies on May 20th. The Cardinals are also giving away embroidered jerseys (what?!) on June 2nd (alternate "St. Louis" jersey) and on September 1st (home whites); there's also a non-embroidered throwback 1928 jersey giveaway on September 14th.
***
Tampa Bay Rays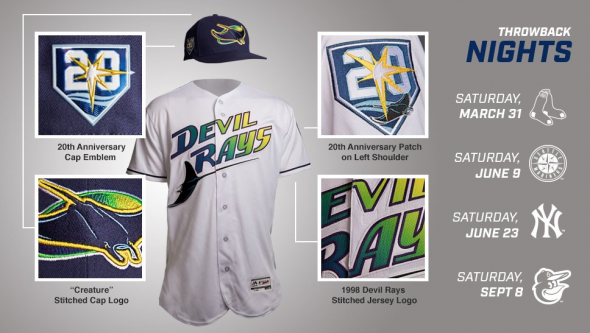 The Tampa Bay Rays will mark their 20th anniversary with a series of throwback 1998 Devil Rays uniform games. While the jersey remains the same design as 1998 the cap is a re-coloured version of their rarely seen alternate cap from 1998-99. This retro combo will be worn for four games on March 31st, June 9, June 23rd, and September 8th.
The Rays will also wear a 20th anniversary logo on their sleeves throughout the season.
***
Toronto Blue Jays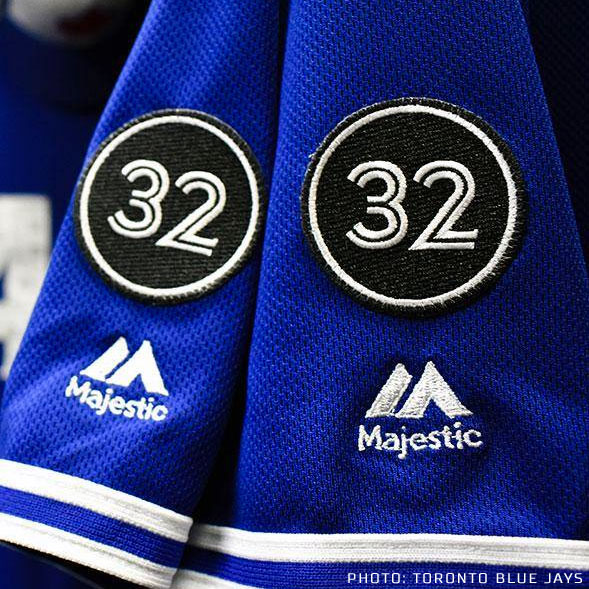 To honour the memory of Roy Halladay, quite possibly the best player in their team's history, the Toronto Blue Jays will be wearing a simple black circular sleeve patch featuring Roy's number 32 in white using the modern Blue Jays font. Toronto will also be retiring Halladay's jersey in a ceremony held on Opening Day.
***
Washington Nationals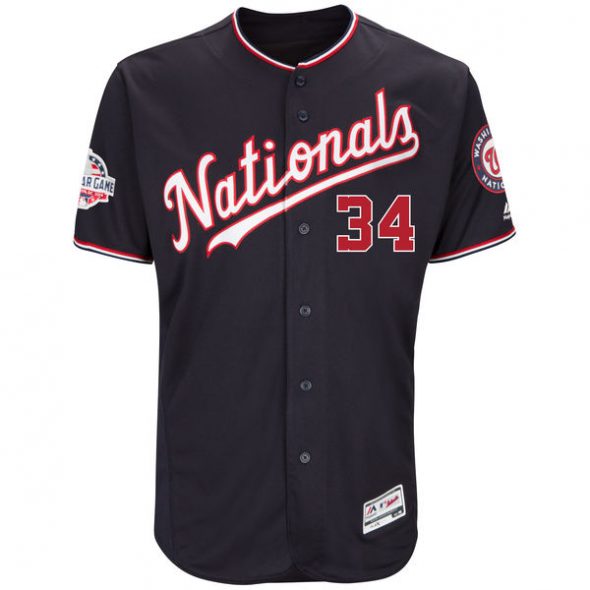 The Washington Nationals introduced a new blue alternate jersey with a swell "Nationals" scripted wordmark across the front. The Nats are also hosting the 2018 Major League Baseball All-Star Game and to mark that they will be sporting a commemorative patch on their jersey sleeves as well as the side of their cap.
That's all we know so far for 2018, as always there are still uniform events which have yet to be announced by the team or league so I'm sure there's a few surprises left out there for this season — don't forget there's still the 2018 MLB All-Star Game caps and jerseys as well as the colourful Players Weekend, assuming they bring that back — which I'm expecting they will.
Be sure to keep checking back here at SportsLogos.Net or on our Twitter, Facebook, and Instagram feeds for all the latest logo and uniform news not just in baseball but across all sports.