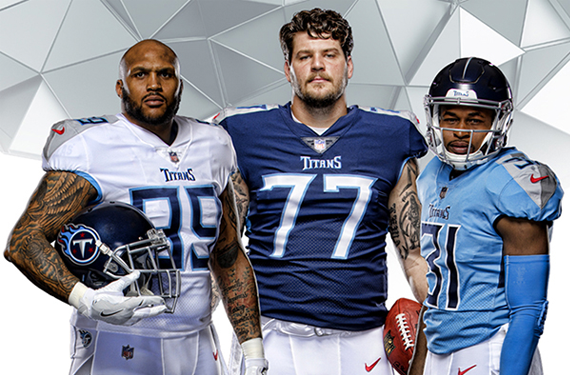 The Tennessee Titans tonight unveiled their new home, road, and alternate ("Color Rush") uniforms for the upcoming 2018 NFL season at a fan event in downtown Nashville.
Most notable is the switch to a navy blue helmet following nearly 50 seasons of the Titans/Oilers franchise wearing white. The logo on the helmet is the same they've always worn with a fading silver stripe up the middle somewhat similar to before but re-coloured and now just one, facemask is now metallic silver.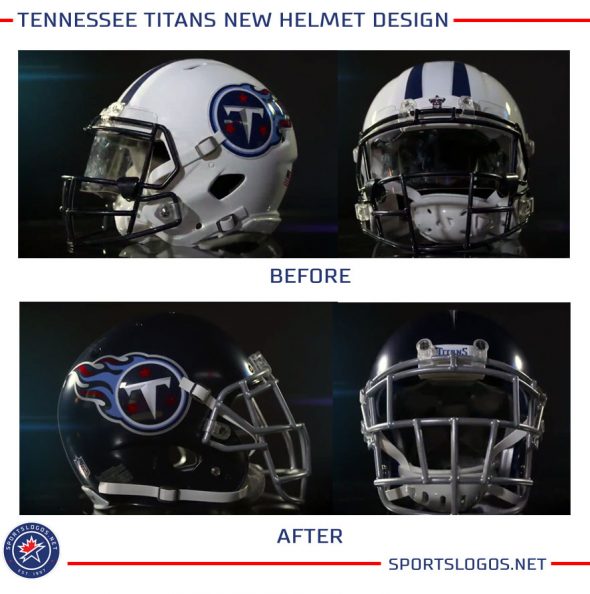 The three jerseys unveiled were navy blue, light blue, and white; each feature a two-colour silver sword-style design on each shoulder with a new font for player numbers. On the side of each jersey is a contrasting underarm insert, this design is meant to also mimic the look of a sword. The font incorporates a point in the top right of each digit an homage to a map of the State of Tennessee. Inside the collar we see three stars, seen both on the team logo and on the state flag.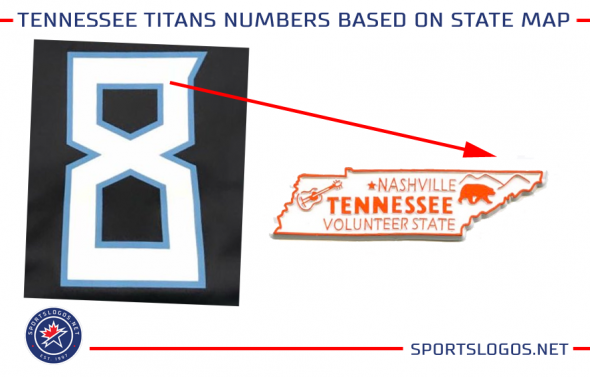 "I think if I had to describe [the new uniforms] in just one word, I would say 'fierce'," said Titans general manager Jon Robinson at the unveiling event. "That's the type of football team we want to be."
The entire process took two years, end-to-end according to a video played before the actual unveiling in a process involving the Titans, the NFL, and Nike. Things got underway as far back as 2014 and included a two year hiatus on the project.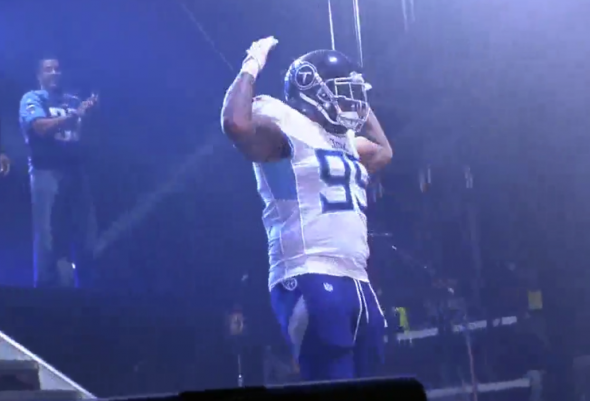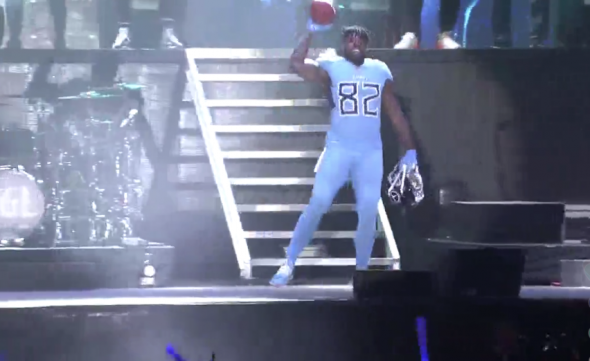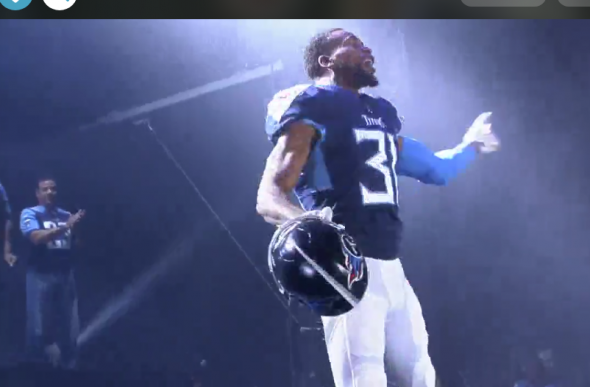 "The Tennessee Titans, in my opinion, have a truly incredible mythology," said Chris Stackhouse the Art Director of the National Football League. "They have a literal mythology, they are Titans. And one of the challenges brought to us by [owner Amy Strunk] was to take your brand and to infuse meaning into it, in a new story."
As for the actual construction of the jersey, it uses a minimal amount of panels and seams and is approx. 29% lighter than the previous NFL jersey. It includes strategically placed holes for maximum breathability.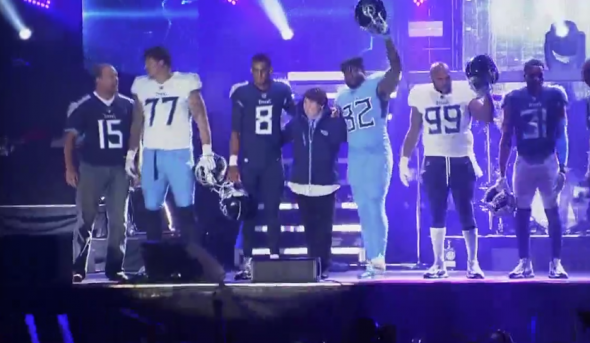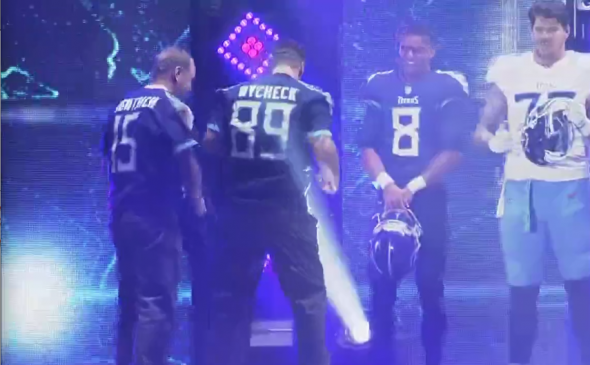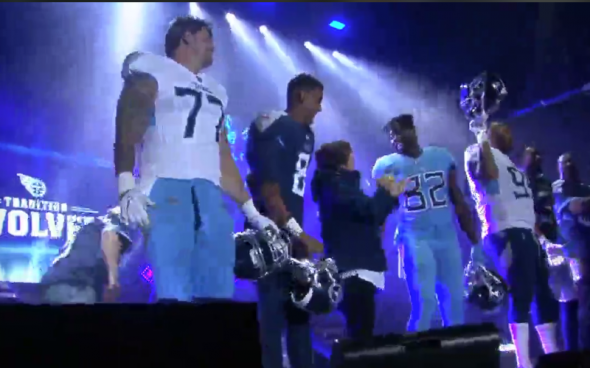 The new look is the first significant change to the Titans uniform since they adopted the Titans name in 1999, overall the club had maintained the same look for nineteen seasons. The unveiling follows a series of leaks which found their way onto social media over the past 36 hours.
UPDATE
A couple of new photos have been released by the Titans with their official explanations for all the design elements, behold: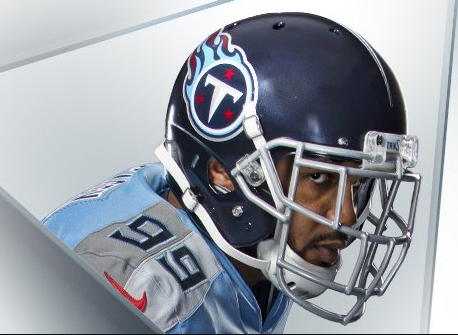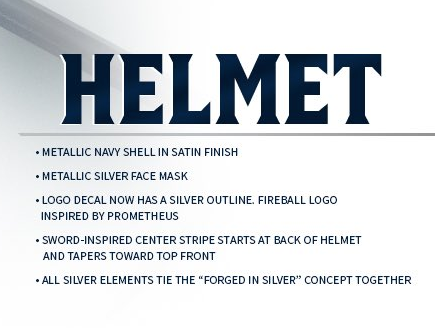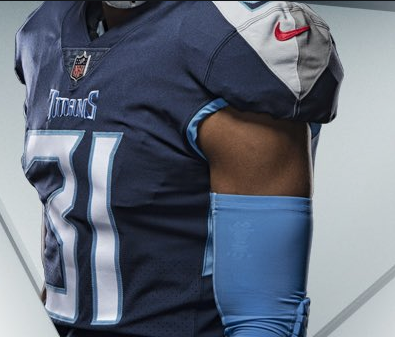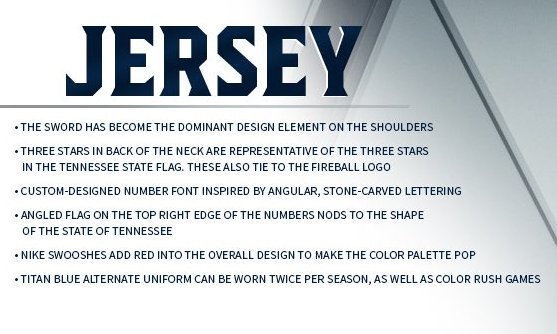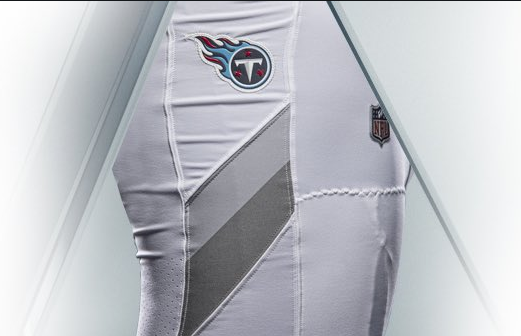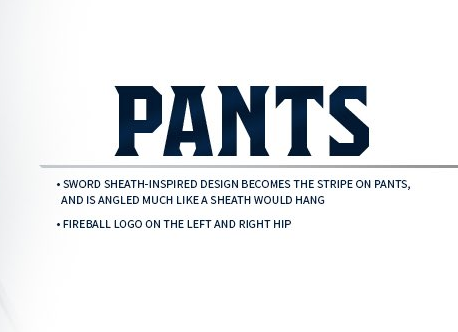 Jerseys are available now to order from NFLShop, for a limited time you can get free shipping within the United States with your order by using the promo code FOOTBALL