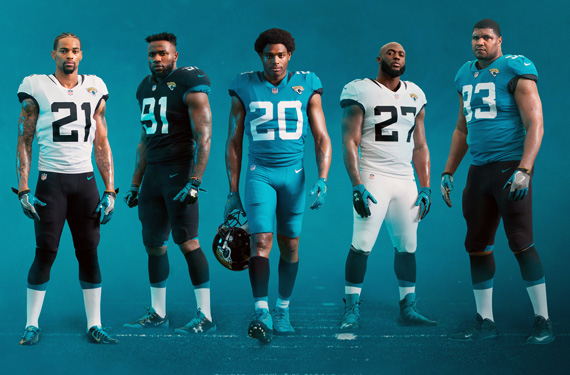 The Jacksonville Jaguars, one win away from a berth in the Super Bowl this past January, have unveiled a whole new uniform at their State of the Franchise today in Jacksonville.
Three new jerseys, three pants, and a whole new helmet are what's new for the Jags this season, and the overall theme seems to be stripping things away to create a more minimalistic, traditional design as well as a lighter (weight-wise) uniform.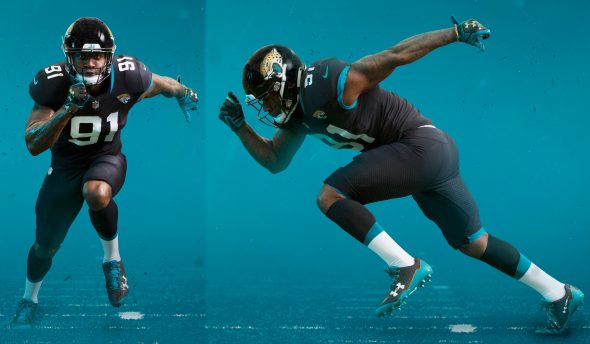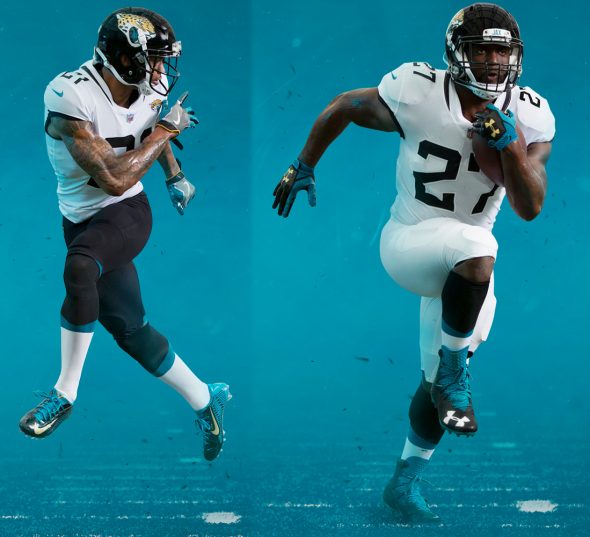 The primary set is black, a teal jersey is listed as the alternate, and of course there's a road white; for each of these jersey colours there's a matching pant. There's not much in terms of decoration on the jerseys or pants, a single stripe at the sleeve on each of the jerseys and 3/4 of the way around the neck; the pants meanwhile have nothing up the sides, only a small stripe at the back of the knee.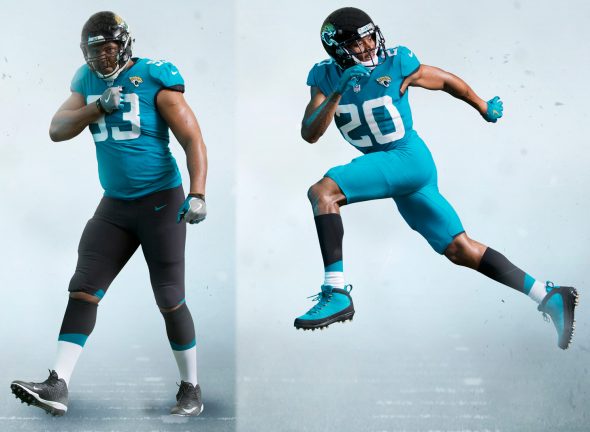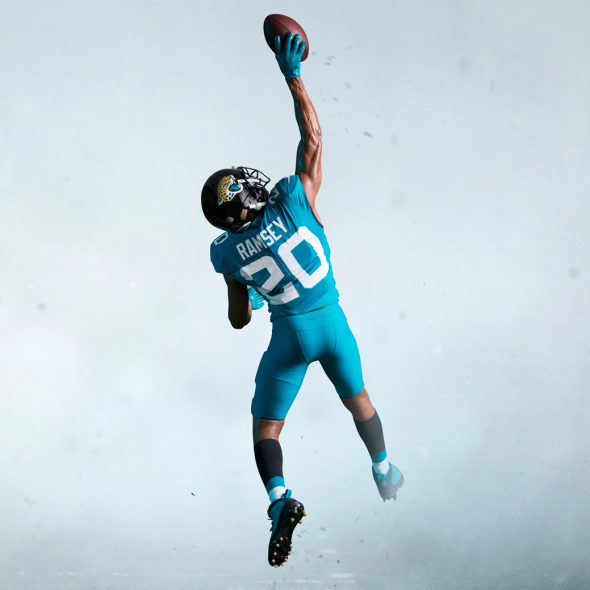 A big win here is the return of the all black helmet, the infamous gold/black gradient of the old shell has been replaced with high-gloss black paint, the Jags familiar logo of course appears on the sides. Also new with the helmets is the addition of "JAX" in 3D on the front bumper to honour City of Jacksonville, the rear bumper will read "JAGUARS" in teal.
"I wanted to see the return of tradition, I wanted to see the distinctiveness, I wanted the shiny black helmet with a beautiful Jaguars logo," said Jaguars Executive Vice President of Football Operations Tom Coughlin in the official release. "I wanted to be represented that way. Just exactly how I've explained it: the classic Jaguar uniform. To a player, the uniform means everything. Because when you put that uniform on you not only represent your franchise, your team, your community; you represent your family. You represent your parents, your wife, your children, everything packed into one because your name is on the back of that uniform."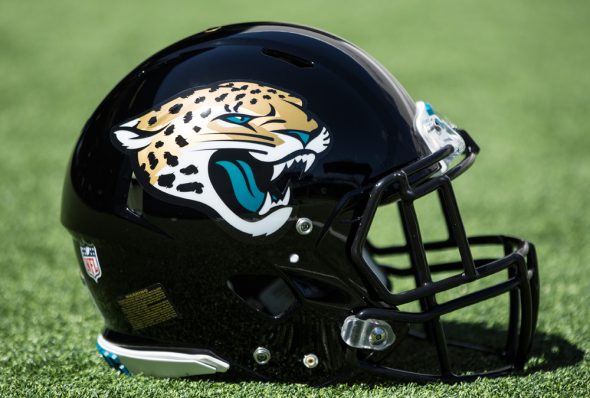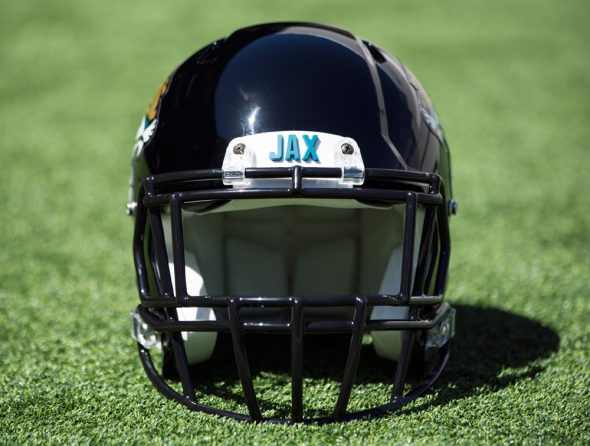 The Jaguars primary logo appears as a patch on the front of jersey in the upper left corner; much like the (now retired?) shield logo which appeared there from 2013-17 it is intentionally positioned to be over each player's heart.
Numbers are two-colour but the trim colour matches the base of the jersey so they're essentially single-coloured; white with black on the primary black, black with white on the white, and white with teal on the alternate teal.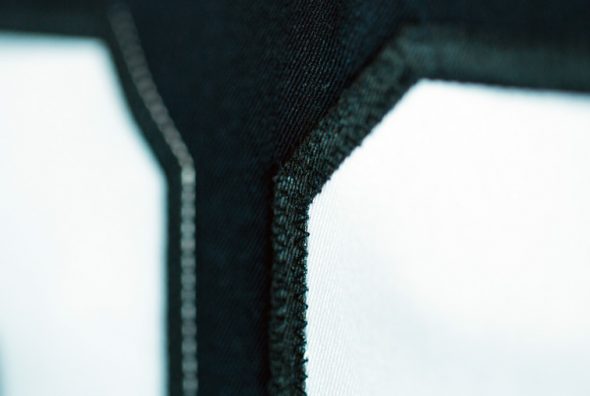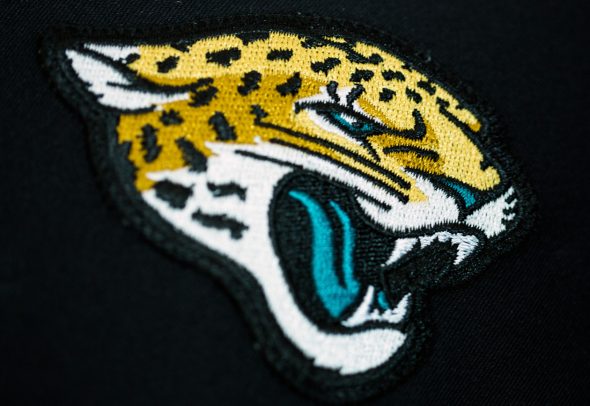 Nike Vapor Untouchable uniform — minimal seams, five panels (none of the front), numbers are 10″ on front and 12″ on back, player name lettering is 3″. Entire uniform weighs only 20.4 ounces, four ounces lighter than the typical Nike football uniform.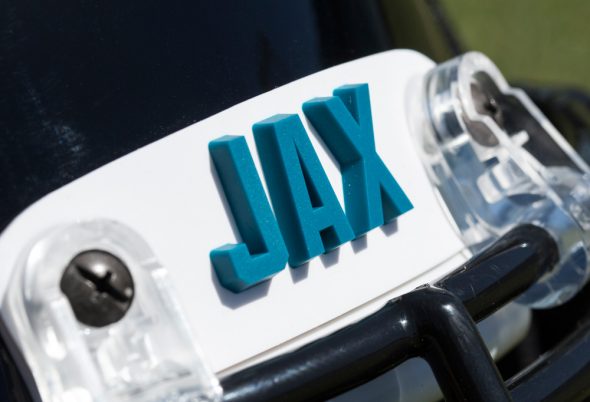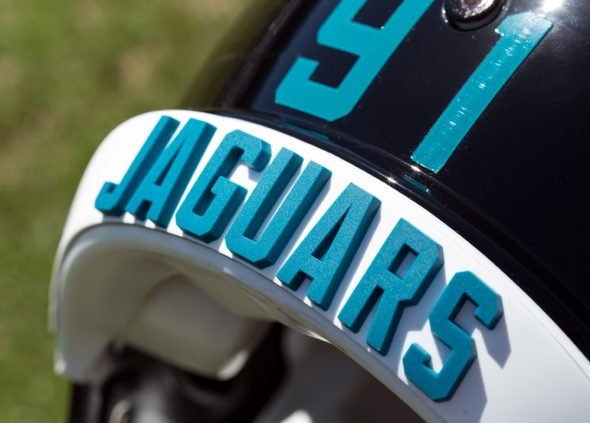 Jerseys will be available for sale at the draft party on April 26th at Daily's Place.