One done, two to go; we're this much closer to the 2018 Stanley Cup Final; so it's a good time to update our "Every Possible 2018 Stanley Cup Final Matchups" post from a couple of weeks ago.
Four teams from the East, and four from the West remain, what began as 64 possible matchups in the Stanley Cup Final is down to just 16, just like that! We'll share two graphics, one which includes all 64 (with those matchups no-longer possible X'd out) and another which just shows the 16 remaining, makes it a little cleaner.
Here they both are, click either graphic for a much larger version of that image.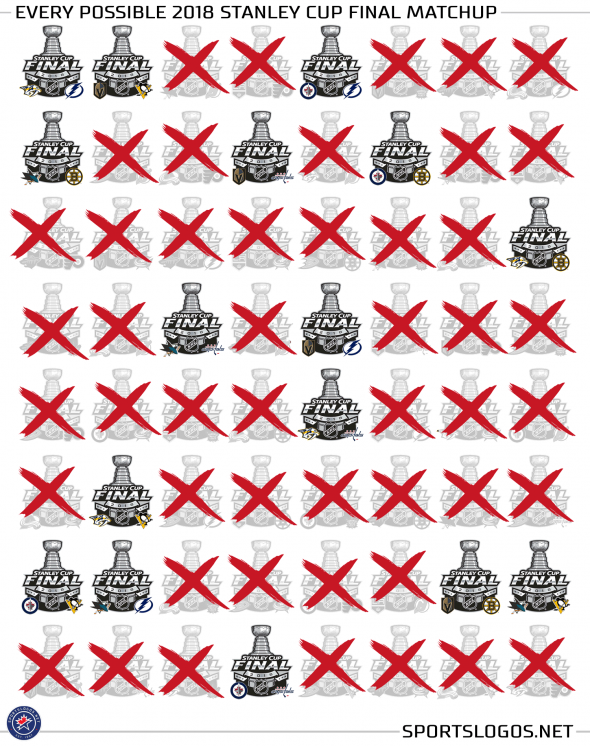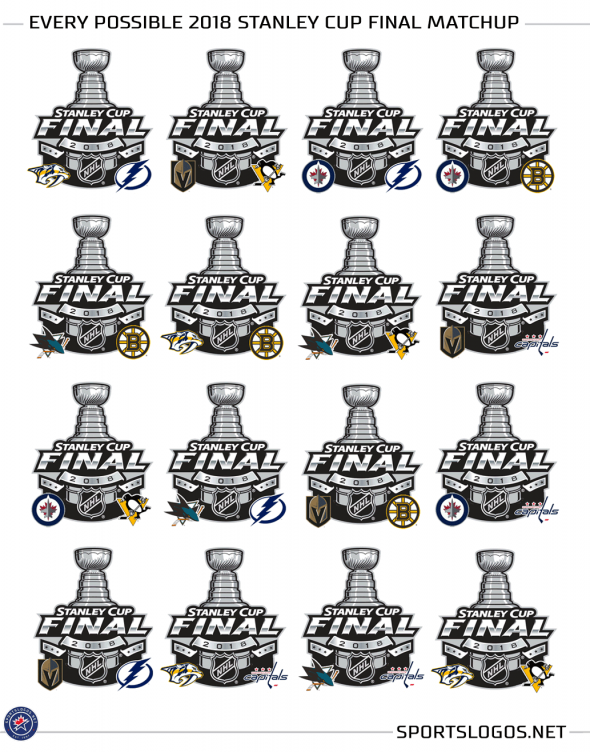 If you do plan on sharing either of these on social media, please link back to the post here rather than just the image. I'd appreciate that, thanks! We'll update this graphic after each round, follow along and watch as the options dwindle until we're left with just whatever ends up being the final.
Let's see where my "random musings" from the beginning of the playoffs now stand with half the field kicked to the curb…
So, some random fun things (fun to me, anyways):
The Western Conference side of the bracket contains only one team* that existed before 1991 (Los Angeles Kings, 1967), two if you really wanna count the Winnipeg Jets. (*-Look, I said 'team', not 'franchise', I'm obviously fully aware that the Avs franchise played their first NHL season in 1912 as the Tallahassee Shuttlecocks).
Not anymore! With the Kings getting swept in the first round, the oldest franchise left in the Western Conference is the San Jose Sharks who débuted in 1991; the other teams are Nashville (1998), Winnipeg (1999 as Atlanta, or 2011 as Winnipeg), and Vegas (like, six months ago).
The only "Original Six" team in the West, the Chicago Blackhawks, failed to make the playoffs for the first time since 2008 so there will definitely not be an O6 final this year. The Maple Leafs and Bruins are the only two from that group to qualify and naturally they'll be facing each other in round one.
With an all-O6 first round one team was guaranteed to be moving on to round two, that was the Boston Bruins. Sigh.
Since 1995, every team to win the Stanley Cup has either worn a shade of black or red as their regular dark uniform colour; if this trend were to continue for a 23rd consecutive season (seriously?!) your 2018 Stanley Cup champion will be one of these eight: Colorado, Vegas, Los Angeles, Anaheim, New Jersey, Boston, Washington, or Pittsburgh.
Half of the teams still remaining use a shade of black or red teams left to keep this streak running in 2018: Vegas, Boston, Washington, and Pittsburgh. With two of these teams meeting in round two (Capitals/Penguins) we're guaranteed at least one of these four to move on to the Conference Finals.
Speaking of Vegas, the Golden Knights are the first NHL team to qualify for the playoffs in their expansion season since the Hartford Whalers and Edmonton Oilers both did so in 1979-80 (yes, they were officially "expansion teams", look it up!). The 1967-68 St. Louis Blues are the last expansion team to make the Stanley Cup Final in their first year, but you could throw a big ole asterisk on that one. The Toronto Hockey Club (now Maple Leafs) in 1917-18 are the only NHL team to win the Stanley Cup in their franchise's first season. "An expansion team winning the Cup?! Yeah, maybe once every hundred years!"
Vegas swept the Kings to keep their expansion season run going; neither the Whalers nor Oilers won their first round playoff series during their 1980 expansion seasons; the Golden Knights are now the first team to move on to the second round of the playoffs in their first NHL season since the 1968 St Louis Blues and Minnesota North Stars both won in the ridiculous all-expansion division that season.
Are you a fan of black and gold? Then you'll want one of these four possibilities for an all black/gold final: Golden Knights vs Penguins; Bruins vs Ducks; Golden Knights vs Bruins; and Penguins vs Ducks.
Two black-and-gold finals still survive, Vegas vs Pittsburgh and Vegas vs Boston. We could also see an all-black-and-gold Eastern Final with Boston/Pittsburgh.
Three potential expansion-cousin finals: 1967 Flyers vs Kings; 1967 Penguins vs Kings; and 2000 Blue Jackets vs Wild. Two of those Class of '67 teams (Flyers vs Penguins) will meet in the Eastern Quarterfinals.
No expansion-cousin final pairings remain. Sorry to say.
Oh Canada? There's only one shot at an all-Canadian final in 2018, the Winnipeg Jets vs the Toronto Maple Leafs, which would really make the boys at The Golf Channel NBC happy. We haven't seen a Stanley Cup Final played entirely on the right side of the border since the Canadiens and Flames waaaaay back in 1989. There are 49 possible all-USA and 14 international Stanley Cup Final matchups.
Toronto couldn't quite get past Boston so we've lost our only shot at an all-Canadian Stanley Cup Final this year; of the 16 possible matchups remaining 12 are all-USA and 4 are Canada-USA.
You again?! There's only five possible Stanley Cup Final rematches but they include both from the past two seasons: 2017 Penguins/Predators and 2016 Penguins/Sharks; the others all involve New Jersey, the lowest seeded team in the East: 2012 Devils/Kings; 2003 Devils/Ducks; 2001 Devils/Avalanche.
Both Stanley Cup Final matchups in the last two seasons are still possibilities – San Jose vs Pittsburgh and Nashville vs Pittsburgh; None of the teams involved in the other three possible final rematches made it into round two.
If Pittsburgh wins the Stanley Cup in 2018 they'll be the first team to win three consecutive Stanley Cups since the 1981-82-83 New York Islanders. That Islanders team of course also won the cup in 1980, so if the Pens do end up making a run at four in 2019 they'll be trying to match those same Islanders.
Pittsburgh lives on! Their quest for three consecutive cups now just 12 victories away; the last team to make a run for three straight was the 1999 Detroit Red Wings who were bounced in round two by the Colorado Avalanche.
Check back after round two to see the final four possible matchups!