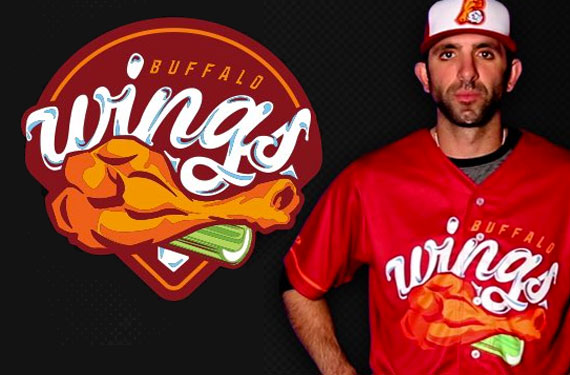 Just when you thought that temporary food-based brands in minor league baseball had completely played themselves out, along comes the perfect team with the perfect promotion to suck us back in. Not since the trend debuted with the Fresno Tacos all the way back in 2015 or perhaps the Lehigh Valley Cheesesteaks in 2016 has a food-based identity seemed like such a natural fit.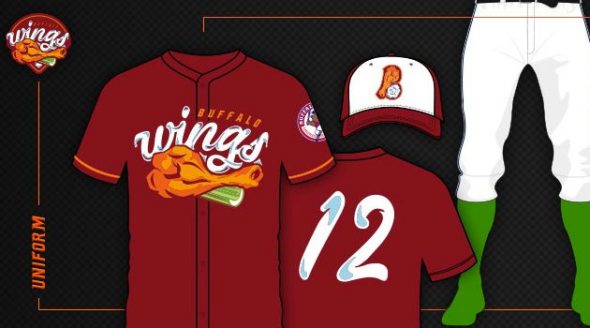 The Buffalo Bisons, Triple-A affiliate of the Toronto Blue Jays, will play as the Buffalo Wings June 14-17 in a four-game set against the Rochester Red Wings, who will be wearing their Rochester Plates uniforms.
The Buffalo Wings' logo features the iconic food item, whose origins date back to Buffalo's Anchor Bar in 1964, atop a traditional side of celery, with the team name written in bleu cheese ("the ONLY acceptable dipping complement," per the team). The logo also features the word Buffalo written in what the team calls "medium sauce-orange" against a "BBQ-red" background. Not to be overlooked in the uniform set are "celery-green" socks.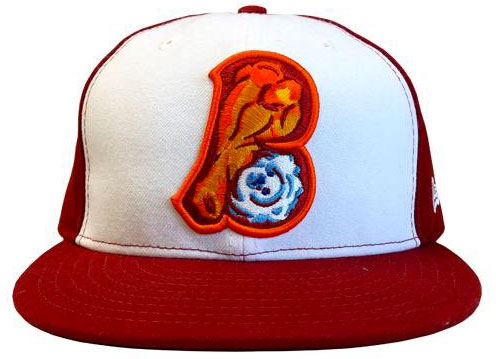 The cap logo features a wing and a dollop of bleu cheese arranged to form the letter B.
"While chicken wings are enjoyed throughout the world, if you really want to get a true order of wings, you have to do it in Western New York," said Mike Buczkowski, VP/General Manager of the Buffalo Bisons. "So it's only fitting that Buffalo's hometown team adopt the moniker of its most famous food item."
Buffalo and Rochester will face off in their respective food-based uniforms a second time when they play each other near the end of the season in Rochester, August 28-30.