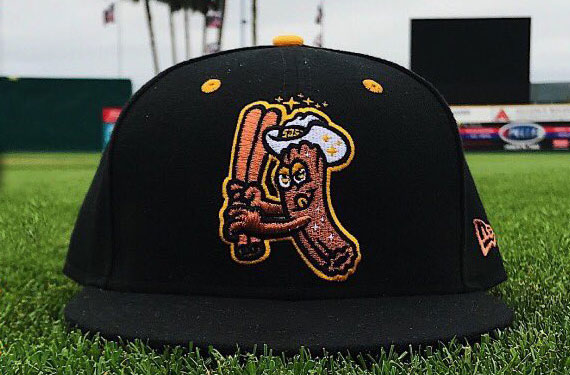 Our ongoing coverage of baseball players dressed as food items continues with news from the California League: The High-A San Jose Giants will play a game next month as the San Jose Churros. Like the city of San Jose itself, churros have Spanish roots—the city went by the name El Pueblo de San Jose de Guadalupe when it was established by the Spaniards in 1777.
Churros are a fried pastry, often covered in cinnamon and dipped in chocolate sauce. (That's a cinnamon stick the churro in the logo is waving around like a baseball bat.) They are popular in Spanish-speaking countries, appropriate to San Jose, which is roughly one-third Latino.
The nickname—and the hat worn by the Churro logo—are an homage to Giants vendor Paul the Churro Man, who will be featured in a bobblehead the day of the game. The Giants will play as the Churros in Brandiose-designed uniforms June 16 against the Visalia Rawhide.