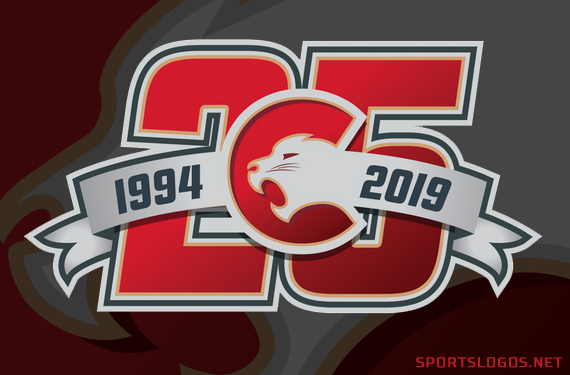 The Western Hockey League's Prince George Cougars have unveiled the logo they'll be using to celebrate their 25th anniversary year which will take place during the 2018-19 season.
Featuring the Cougars current primary logo, the logo includes a red "25" trimmed in gold and silver in the background as well as a silver banner across the front which reads "1994" and "2019" in dark grey.
The Cougars began their Western Hockey League life as the Victoria Cougars in the 1971-72 season and following 23 seasons on the island, the team relocated to Prince George for 1994-95. While the Cougars won a WHL title in 1981 during their time in Victoria, the team has had less success in the 25 years since relocating having never advanced even to a WHL final.
A look back at the Cougars logo history of the team during their time in Prince George: