The Las Vegas 51s will still be looking up to the sky for their new identity… just not quite so high next year.
According to some Grade-A sleuthing by Clark Rasmussen of DetroitHockey.Net we've learned that it sure looks like the 51s (New York Mets-AAA, for now) will be using some variation of the name Las Vegas Aviators when they take the field in 2019, coinciding with their move to a new ballpark in nearby Summerlin, Nevada.
Why Aviators? For those of you up on their history all I have to say is that the team is owned by the Howard Hughes Corporation. For those of you who are not, Howard Hughes was a jack-of-all-trades philanthropist in the first half of the 20th Century getting involved in everything from directing films to setting airspeed records to extreme reclusivity over the course of his seventy years on this planet. Film buffs would know his story from the 2004 Leonardo DiCaprio movie based on his life titled (yes, you guessed it) The Aviator… and now this all makes sense.
Rasmussen discovered the name during a search through web domain records and found 16 new domains registered by the Howard Hughes Corporation all of which used the name "Aviators". This included several different geographic identifier names for the team such as Las Vegas Aviators, Vegas Aviators, Nevada Aviators, Summerlin Aviators, and Downtown Summerlin Aviators.
A further search showed a Twitter handle for @LVAviators was just registered this month with the name "Las Vegas Aviators" attached to it, perhaps giving us a hint toward which geographic identifier the club is leaning toward.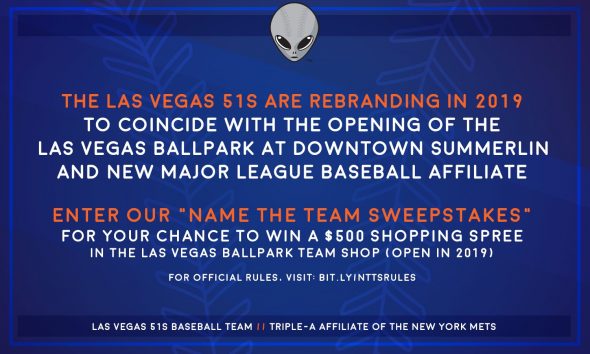 When the 51s announced they were seeking a new name Aviators was the suggestion I submitted to their "name-the-team" contest, so yes, I definitely approve this name if it's what they end up going with. It's unique, it's got historical importance (the new ballpark is on land which was owned by Howard Hughes), and (with apologies to Monty Python) it's not silly. We've seen plenty of oddball names throughout Minor League Baseball in recent years, "Las Vegas Aviators" on the other hand is a name worthy of any of the top-level major sports leagues in North America (better than Golden Knights) and if the team is going to rebrand regardless, this is the best way for them to go. I can't wait to see the logos.