It's here! It's finally here!
Today the Seattle Mariners and Kansas City Royals officially welcome us to that futuristic Tomorrowland we all envisioned back when we used to be optimistic of the unknown, but surely better world that was awaiting us sometime down the road. Ah, the good old days.
To celebrate the 20th anniversary of the first time we travelled to the future, the two American League clubs will wear off-the-wall futuristic uniforms during their game today at Safeco Field in Seattle. The first-ever "Turn Ahead the Clock Game"  was played between these same teams back at the old Kingdome on July 18, 1998.
The Mariners will be wearing the same design that the club wore originally on that magical night in 1998: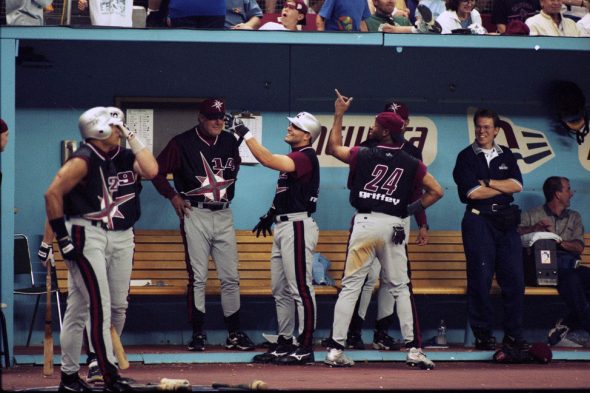 The visiting Royals will not, opting for a slightly less visually-offensive design…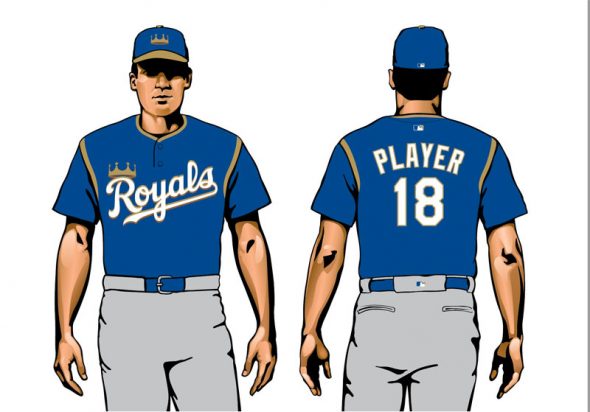 Those Royals helmets are just the greatest.
It's different, but in a good way, from the garish all-yellow (with teal sleeves?) look they went with originally in 1998: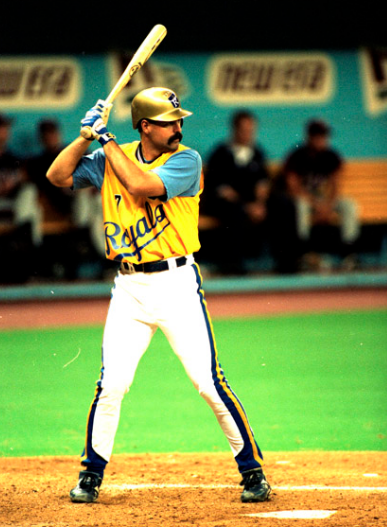 The Mariners social media team is going all out for the event, redesigning their Twitter account as if it were June 2027:
Ah, the Mercury Fire! I guess the Mets changed their name sometime in the 2020s.
"Turn Ahead the Clock" night was pitched by Mariners marketing man Kevin Martinez in the late 1990s as a fun alternate take on the "turn back the clock" games that had started growing in popularity throughout baseball. The first game in 1998 was set in the year 2027 and even included a Seattle Mariners 50th anniversary logo on the outfield wall.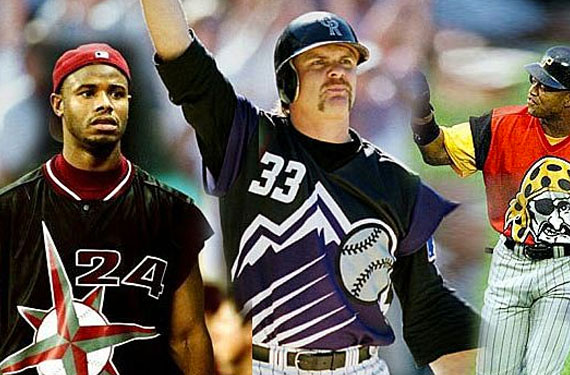 The league got involved the following season the event was sponsored by Century21 (get it?) and was adjusted to take place either in 2019 (hey, that's next year!) or 2021 depending on what you trust more – my memory or Wikipedia. The uniforms worn by the New York Mets even predicted their own relocation to the planet Mercury by then. Presumably fans got so tired of the team they just finally fired them into the sun? They must've missed slightly.
Hopefully this is a sign of things to come in 2019, the 20th anniversary of the promotion across the league. I've always thought bringing back the "future uniforms" would be a great design for the Players' Weekend in August.
Kinda wishing I made the trip out to Seattle to see this one… oh well, maybe for the 40th anniversary?
Tonight's Turn Ahead the Clock throwback game gets underway at 7pm local time, 10pm on the east coast. I imagine I'll be Tweeting pics from the game, so be sure to watch our Twitter account tonight!