Last season the Los Angeles Rams took to the field wearing one of the worst uniforms in NFL history; the ugly-child was born of the marriage between the Rams inability to wait a couple of seasons and the league's super strict uniform rules.
Earlier this off-season we reported the NFL was relaxing their rules regarding throwback and alternate uniforms this season; for years we'd only see an alternate look at max two times during the regular season, this cap has been lifted and the Rams are taking advantage to the benefit of everyone.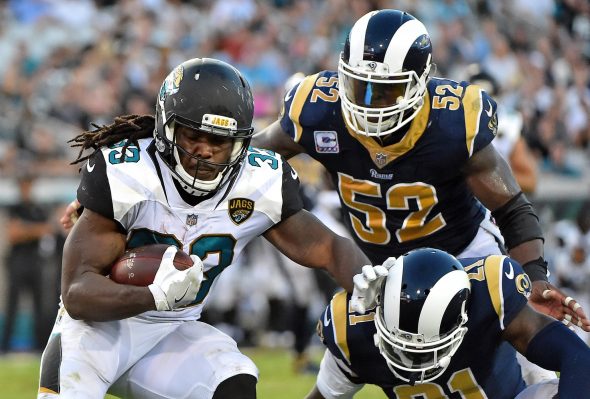 Yes, thanks to an injection of common sense, things are going to look a little less ridiculous at the Coliseum this fall.
For the 2018 season, the Rams will wear their beautiful throwback uniforms, the royal blue tops with yellow-horn helmets *five* times, the all-yellow "ColorRush" uniforms will be worn twice, and the usual white "road" uniforms for the nine other regular season games (as well as all four in the pre-season).
White. Throwback. Color Rush. @robertwoods, @JHekker + @JaredGoff16 weigh in on the 2018-19 uniforms + what's to come in 2020. pic.twitter.com/ZZ9H0e3zaJ

— Los Angeles Rams (@RamsNFL) July 28, 2018
All five throwback games are home games, one of the two "ColorRush" games are as well (although that "home" game will be played in Mexico). The breakdown of regular season games played in Los Angeles this season then is five throwback, two white. Realistically (but not officially) the throwback uniform is the home uniform.
Notice what's missing from that list? Yes, the usual navy blues – officially the Rams home uniform – will not be worn for a single game in 2018. A uniform which really didn't look all that bad until the team changed the colour of their helmet horns from gold to white in 2017 resulting in a mismatched mess. Note that we will still see a mismatch when the Rams wear their usual white uniforms, but the amount of gold on that set is much less than the navy blues.
The Rams are still set on changing their uniforms when they move into their new shared stadium in Inglewood with the Los Angeles Chargers in 2020.