A few small changes to the overall look of the Tampa Bay Rays heading into 2019 include a new primary logo, a new uniform patch, and the return of a 90s uniform treasure.
Starting with the primary logo — The Tampa Bay Rays have joined the chorus of primary logo tweakers for the 2019 Major League season. But this one comes with a miniature mystery attached to it.
Prior to last year's 2018 season, several readers pointed out to me that the Tampa Bay Rays official website had a logo and uniform history section, and within that section, the team listed a primary logo change for 2018. They were right! Behold:
No longer a diamond, just the RAYS wordmark with the glint of sun. That's all. Also, "quite odd", I thought at the time, since I heard nothing of a Rays logo change for the season. I consulted the league's official style guides and… it agreed with me. The Rays logo for 2018 was the version with the diamond in use since 2008. So, as is my own personal policy, I went with what the league considered official and treated the wordmark-only version as a sort of unofficial primary logo.
Well, that's all been cleared up because, in 2019, the official MLB league guides now show the diamond-free version of the logo as the new primary Tampa Bay Rays logo. The diamond survives as the Rays alternate logo.
Good, I'm glad we're all on the same page now guys.
Other MLB teams to change their primary logos for 2019? Miami and Philadelphia are the two you've heard about, Baltimore and Kansas City are a couple you may have missed. Click any of the links provided there to get yourself all caught up.
The primary logo change isn't the only bit of news for the Rays in 2019, they've also added the devil ray to the sleeve of their alternate uniforms, both the powder blue and navy blue tops will have the devil ray patch for the first time which will now match both their home white and road grey jerseys.
Yes. Much better.
Now join me as I bury the lede here…
Tampa Bay has also announced the return of the Devil Rays inspired 1998 "fauxback" cap they wore last season as a 20th anniversary lid, and that the original Devil Rays throwback jerseys would be making a comeback for four games in the upcoming season — May 11 vs the Yankees, June 15 vs the Angels, August 17th vs the Tigers, and September 21st against the Red Sox.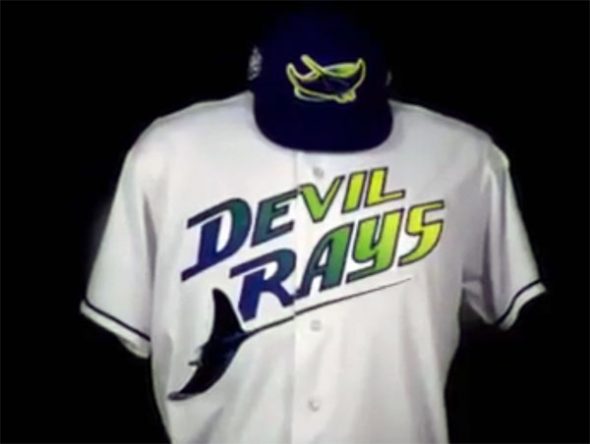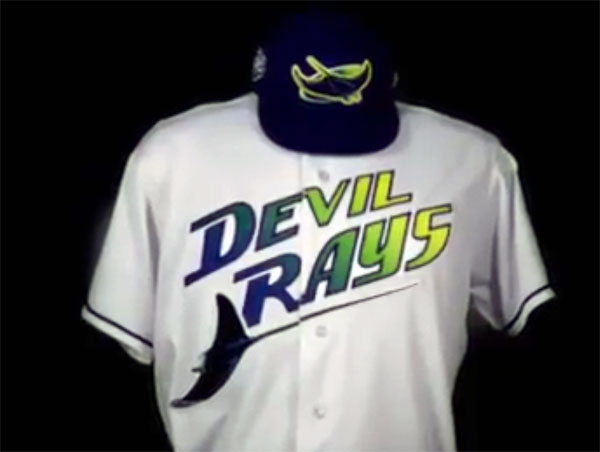 It's grand news all around in Tampa Bay.