The Boston Red Sox, celebrating the most recent of their four World Series championships captured during this young century, will raise their 2018 pennant, collect their rings, and then wear special gold-trimmed uniforms when they play their 2019 home opener at Fenway Park this afternoon against the Toronto Blue Jays.
As a team steeped in tradition, the temporary alterations to their uniforms reflect the history and overall conservative look of the club.
"I think some of us had different ideas of what can be done but what it comes down to is this is a very traditional team", Stephen Roche, Major League Baseball's Vice President, Authentic Collection told SportsLogos.Net. "The jersey has very subtle gold trim around the outside and gold trim around the numbers, it's very similar to what we've done in the past with the Red Sox."
In addition to the gold-trimmed cap and jerseys, the Red Sox will also wear a special sock design for the game. Designed by Stance, the socks are red with the team logo visible on the back of the leg trimmed in gold. Not visible, at the toe, is the team's 2018 World Series Champions logo. This logo is also worn as a patch on the left sleeve of the jersey.
It's become an annual tradition in Major League Baseball for the defending champion to add gold to their uniforms when they open the season. The St Louis Cardinals were the first to do so in a game when they wore gold-trimmed numbers following their 2006 title on April 3, 2007; since the '07 Cards, only the 2008 Red Sox and 2010 Yankees have opted against doing so. The 2016 Kansas City Royals liked their special uniforms so much they brought them on board as an alternate uniform for 2017 and beyond.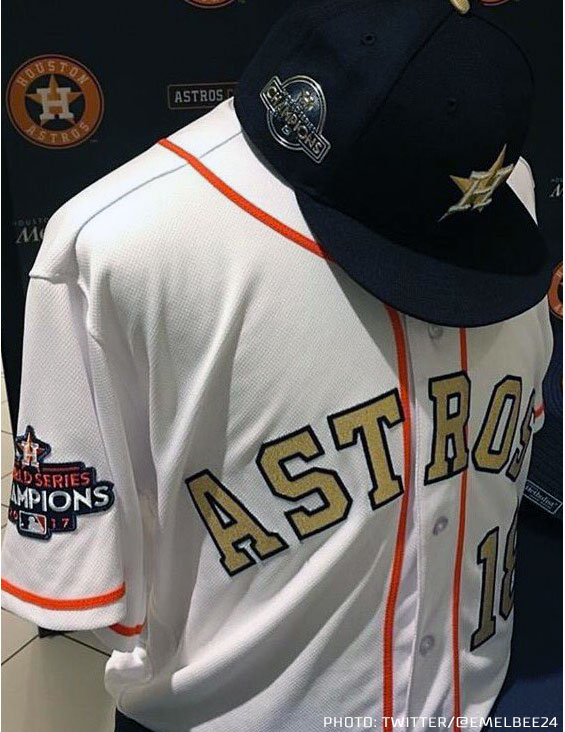 Boston had previously worn commemorative championship uniforms when they celebrated their 2013 World Series title on April 4th, 2014, a 6-2 loss to the Milwaukee Brewers. Those uniforms also featured the Red Sox usual home white tops with the lettering and numbering trimmed in gold as well as the cap logo. The Red Sox wore a similar look during their 2004 ring ceremony on Opening Day 2005 but switched back to their usual gold-free home uniform for the actual game.
Both the gold-trimmed cap and jersey that will be worn in this game are available for purchase now right here.