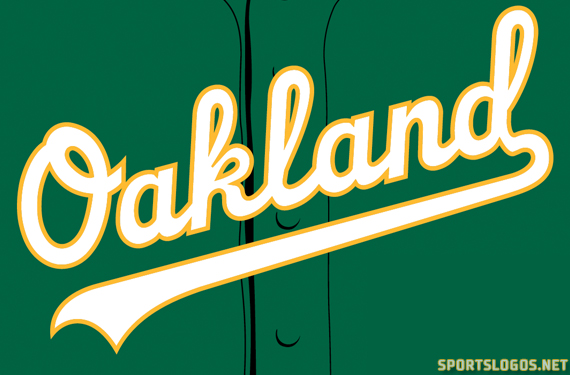 The Oakland Athletics appear to have caught themselves a little case of jersey superstition this week.
Oakland opened their five-game homestand this past Friday, clad in their Kelly green home alternate "Friday Night" jerseys, with a 5-2 victory over the White Sox. The A's kept right on rolling with the Kelly greens on Saturday, the jersey making a rare non-Friday appearance, and the result was very much the same — another win — and this time in very convincing fashion, 13-2.
This pattern continued again on Sunday to finish off a sweep of the White Sox and then into the week with back-to-back victories in Kelly green to sweep the Seattle Mariners in a two-game series on Tuesday and Wednesday. It was the first two times that the A's had worn Kelly green outside of the weekend but it was worth it, a five game homestand in the books with all five of them victories.
Aside from those Kelly green Friday night home games (and any MLB mandated holiday games, such as the Fourth of July), the Athletics let each game's starting pitcher determine what uniform will be worn by the team that night. No doubt facing pressure both internally and from those 24 other pairs of eyes in the locker room to keep the streak going, the starting pitcher for each of those four subsequent home games following the win Friday surely didn't need to think more than a second to make their decision about choosing what to wear.
Tonight might be a little trickier, however, for pitcher Mike Fiers, as the Athletics did not bring those lucky Kelly greens with them to Minnesota tonight, this according to a team employee who chatted with SportsLogos.Net this afternoon. The team instead travelled with their usual two road uniform options — the standard greys and the dark green "Athletics" alternate tops.
In June of 2011, in a similar fashion the Athletics headed off on a road trip having just won five in a row wearing their long-forgotten (but remarkably still alive) gold jerseys. Unlike here in 2019, the A's brought their lucky jerseys with them on the road and it seemed to work, at least for the first night. In the game one, wearing gold on the road at New York's CitiField, the A's won their sixth straight, but the next night the "luck" finally wore off as the Mets took it 3-2 with a walkoff win in 13 innings. That was it for the gold jerseys on the road, after just one close loss they were tossed aside, the A's went back to their usual road alternate greens for game three.
It's a bit of a risk, perhaps, to those who choose to believe in lucky things during a winning streak (and no doubt, baseball players are infamously superstitious). Perhaps all they need to do is stick with some shade of green? If so, Fiers might want to consider going with the dark-green jersey tonight.
Of course if they do win, none of this will even matter… but if they lose? You'll be hearing *something* from a few fans about how they didn't bring those "lucky" Kelly greens with them to Minnesota.