Thirteen games this afternoon and tonight kick off the first Sunday of the 2019 NFL season, the 100th anniversary season for the National Football League.
Throughout the 2019 season, every club but one will wear the NFL's 100th anniversary logo, as seen at the top of this post, on the collar of their jersey in place of where the NFL shield would typically have gone.
The lone holdout on the NFL100 patch is the Chicago Bears who are choosing to celebrate their own centennial season on their uniform with a patch identical to the NFL's (with the NFL shield swapped out for the Bears logo). Other teams celebrating anniversaries with a patch on their jersey in 2019 are the Oakland Raiders (60th), and the two expansion clubs from 1995 — Carolina and Jacksonville (25th). Houston is continuing to wear their "RCM" memorial patch for owner Bob McNair.
As far as new uniforms this year, the biggest change is to the New York Jets who got an entire new look — logo/helmet/jersey/pants, the throwback look the team had been wearing since 1998 is gone, green helmets are back. Much more detail on their changes here. The Tennessee Titans made their numbers bigger, the Chargers and Browns swapped around their home jerseys.
And now on to today's uniform matchups: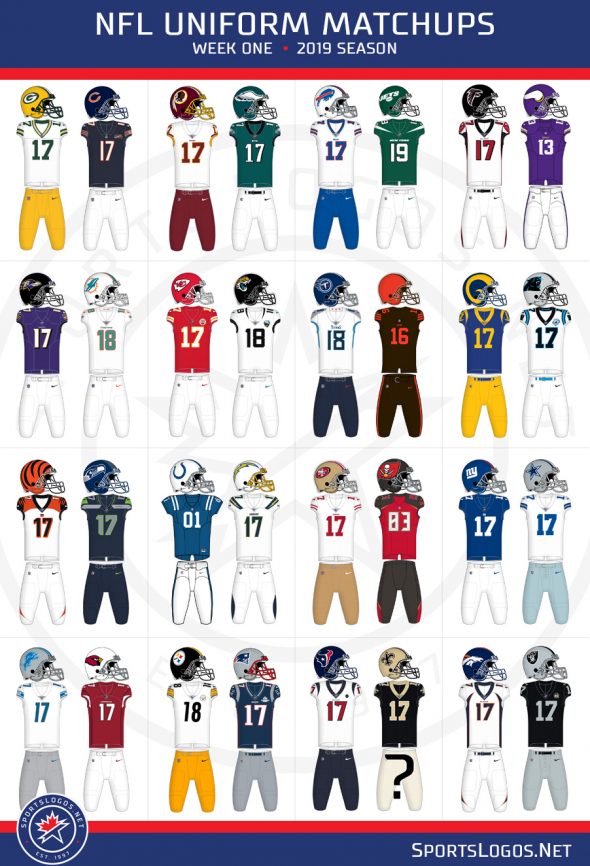 Click the graphic above for a closer look
The New England Patriots will wear a patch celebrating their Super Bowl LIII victory for this week's game only.
And now for our first NFL Uniform Matchup of the Week — a lot of traditional pairings here with Cowboys and Giants or the Packers and Bears, but I'm going to go a little off the board here…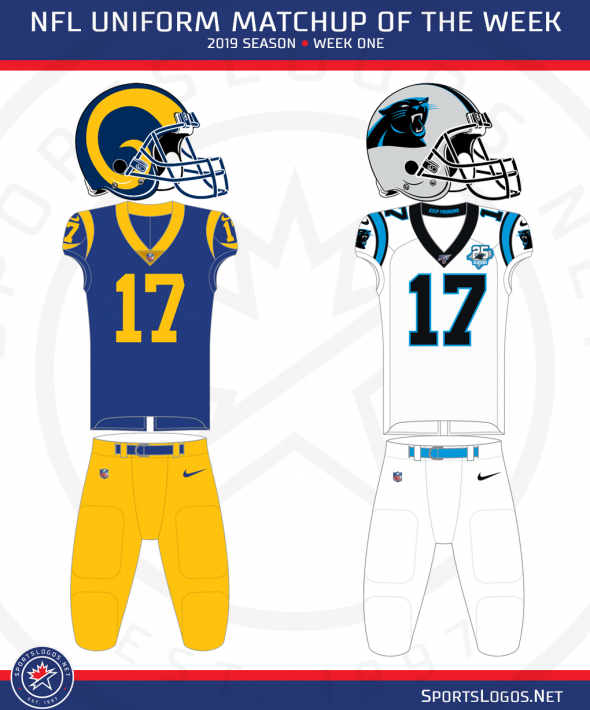 Los Angeles Rams at Carolina Panthers, that Rams blue and gold is just so strong, matched up against Carolina's shade of blue with the black and silver accents puts this one at the top of my Week One list.