It's all back.
The brown. The gold. The pinstripes. The friar. The San Diego Padres.
They're all back, and they'll be sticking around for a long time.
Yes, the Padres heard you. They heard you loud and clear. And once it was obvious that brown-and-gold was how the fans preferred this team to look, the club wanted to make sure each of the next steps was done right.
"Let's not rush it, let's take our time and do it right because we don't want to be changing our uniform every two years," Padres Chief Marketing Officer Wayne Partello told SportsLogos.Net during a meeting at Petco Park. "We want to come out and make a clear definition that this is who we are, this is who we stand for, and this is what we want to be wearing when we win our championship."
"The goal at the end of all this work is that today we can look our fans in the eye and say, 'We did this for you, you asked for it and you wanted it so passionately'. We did the work and we were committed to whatever this fanbase wanted."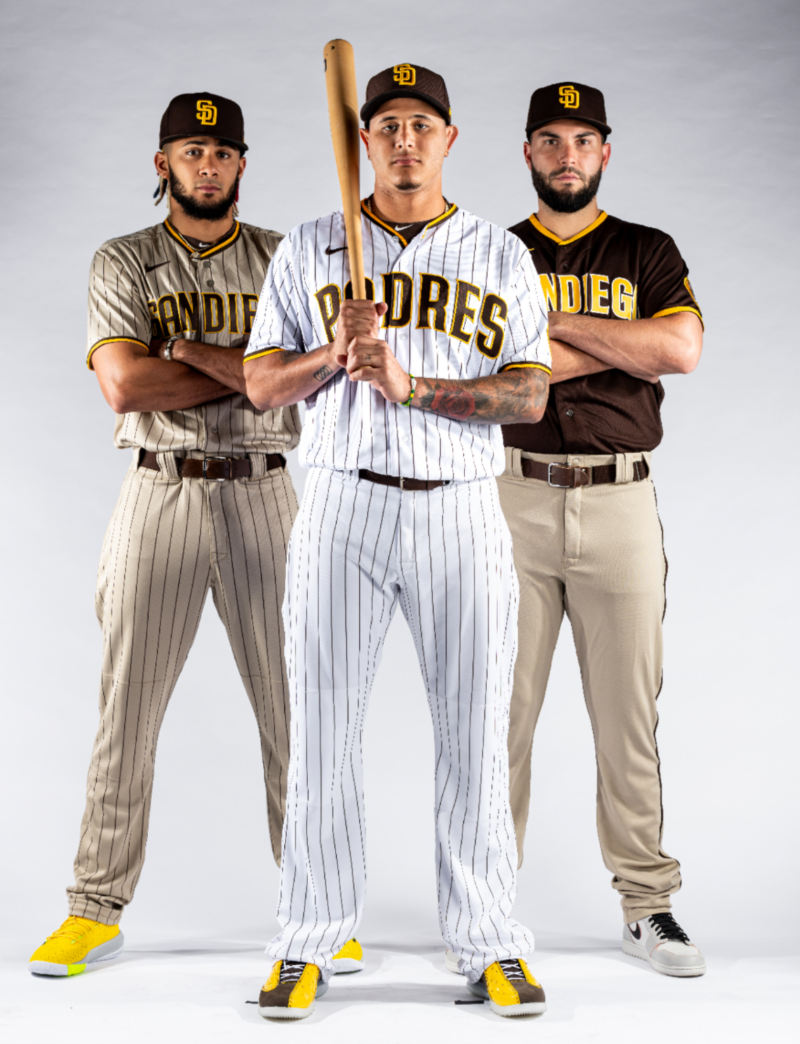 Three new uniforms and two new logos were unveiled today (two new alternate camouflage uniforms will be announced tomorrow). The new uniforms include the primary home whites, the primary road browns, and the alternate road sands. As for the logos, the primary mark is the updated "SD" rather than the new Swingin' Friar which is classified as an alternate logo.
At home a white uniform with brown pinstripes, "PADRES" arched across the chest in a darker brown and brighter gold trim in an updated wordmark (but similar to what has been worn in recent seasons). Brown and gold trim around the collar and uniform sleeves, a new Swingin' Friar patch laid on a yellow circle.
"Something that we really love is the A, which is somewhat representative of the 'mission bell' that's a part of our brand.", Padres VP of Marketing, Katie Jackson told SportsLogos.Net during this same meeting. "We have a hall of fame closer who's sonic branding is a bell, so we like how the way the 'A' turned out, we felt it was a nice nod to the brand."
On the road, it's brown, not grey, with "SAN DIEGO" arched across the chest in gold and white, gold trim on the sleeves and collar. The brown jersey paired with sand pants with a single solid brown stripe down the side.
To accommodate Major League Baseball's request that a light option is available, a second road uniform was created in this new sand colour (again, it's not grey) with brown pinstripes. "SAN DIEGO" arched across the chest in brown with gold trim. The pinstripes carry on down the pants. The Padres become the only team in the league to not have a grey uniform, coming just one day after the Arizona Diamondbacks announced the end of their experimental near-black "graphite" road uniform.
"We want to be unique, we want to be distinctive. Our fans say when they turn on the TV they want to know it's the Padres whether we're wearing the primary or alternate it's very clear that it's us", Partello added. "Everything about this is what was asked for distinctive, unique, brown and gold. When we tested this without the pinstripes what we heard was it was lacking something, we wanted to give it another dimension."
All three of these uniforms will be paired with a single cap, a brown crown with an updated "SD" in gold.
"When we knew we were doing the rebrand, we didn't just accept the SD we had for the new SD, we wanted to make sure it was the right SD", said Jackson. "Throughout our history, we've had many different SDs – there've been very square SD's, very rounded, some with serifs. The SD we had last season, many of the lines were not straight, it's very subtle. The serifs weren't the same length or shape, very inconsistent. For this new look, we wanted to make sure everything consistent across the board."
What was clear from my discussion with the Padres was how strongly they wanted to create a look that their fans would love. From colour schemes – brown and gold? blue and orange? blue and white?, to the details of the uniform — an 'SD' or 'Padres' on the homes? Pinstripes or keep it clean? Every single element was tested with various focus groups made up of Padres fans across all age groups.
"To our fans, we can say with a straight face, we did it for them and we did it the right way", said Jackson.