And now for something completely different…
Late last night a photo began circulating 'round Twitter which showed a wild new jersey design for the Colorado Avalanche, later reports would peg this as the uniform the Avs would wear during the 2020 Stadium Series game at Air Force Academy against the Los Angeles Kings.
Yes Kings fans, you can go ahead and start imagining what your uniform will look like.
By the time morning broke, we had a new photo out there which shows the full uniform — jersey, pants, socks.
The photo shows a blue and burgundy jersey with a white stripe going through the middle resembling both a mountain peak and the letter "A". This pattern continues on the sleeves as a straight line with the top half of the jersey in burgundy and the bottom in blue.
It's a far cry from what we just saw from the Nashville Predators and Dallas Stars for the 2020 Winter Classic, but the Winter Classic and Stadium Series have always used two *very* different styles when it came to their uniform designs. The Winter Classic is meant to be a tribute to the game's origins, the Stadium Series is a look to the game's future.
Call it hockey's "Turn Ahead the Clock", if you like.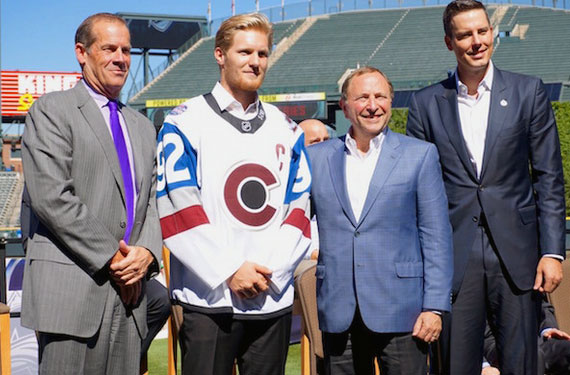 The 2020 Stadium Series will be held at the Air Force Academy in Fort Collins, Colorado on February 14, 2020.