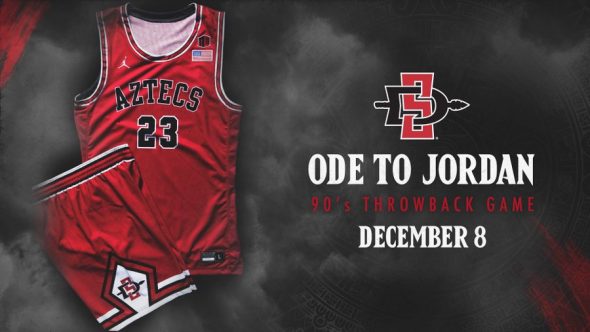 Back in November, the San Diego State men's basketball team unveiled turquoise uniforms in honor of Native American Heritage Month that were somewhat reminiscent of the Chicago Bulls' recently unveiled City jerseys.
But while that was simply a coincidence, the Aztecs actually revealed alternate uniforms this week that are an exact replica of those worn by the Bulls during the Michael Jordan era for Sunday's game against San Jose State (3 p.m. ET on FOX Sports San Diego).
While Jordan played his college ball at North Carolina, San Diego State's move from Nike to subsidiary Jordan Brand last season facilitated the decision to honor the greatest basketball player of all time.
"As a guy who grew up in the '90s (when) Michael Jordan was winning all those championships and the Bulls were the class of the NBA, I thought it would be cool to put our team in a uniform that so many of us grew up with and idolized," Aztecs director or operations Matt Soria told The San Diego Union-Tribune. 
Of course, the only difference between San Diego State's uniforms and Chicago's are the wordmark on the front and logo within the diamond-shaped shorts design. Nobody on the team will wear Jordan's No. 23, either.
"They're very similar to the Bulls uniform," junior forward Matt Mitchell said. "I love them. I'm sure the entire team will love wearing them."
This marks the first time since the 2014-15 season that the Aztecs will wear red uniforms thanks to a number of notable road losses that season. They've worn black on the road ever since.
The Spartans will counter with their gold uniforms on Sunday afternoon, meanwhile.
Photo via @Aztec_MBB on Twitter.