It appears the NBA is bringing back a little bit of colour to their annual All-Star Game festivities.
Thanks to a since-removed shop listing over at ChampsSports.com and the quick Twittering skills of @luchetti03 we got ourselves a good look at the new 2020 NBA All-Star Game uniform before their official release.
The jersey we saw is red with subtle darker red pinstripes, around the collar and sleeves are four colours – grey, orange, pink, and red. Across the front of the jersey is "ALL-STAR" in white, rounded sans serif lettering with the logo for the 2020 game — a star from the Chicago city flag with the league logo inside — placed below. As was the case in the last couple of seasons, the jerseys are branded with the Air Jordan mark instead of the Nike swoosh and feature a KIA advertisement patch.
Looking at the back of the jersey, player names go below their numbers, and the logo from the front of the jersey is placed at the neck.
While Champs didn't have the other set of uniforms listed, we've been told that the other team will wear blue versions of these jerseys — something that appears to be confirmed by this YouTube video which shows all sorts of uniforms set for the 2020 All-Star weekend (celebrity game, rookie showcase, etc). From that video, here are the blues:
Overall this is a departure from the past two season's uniforms which were largely black and white and included each player's team logo on the front of the jersey stripped of all colour: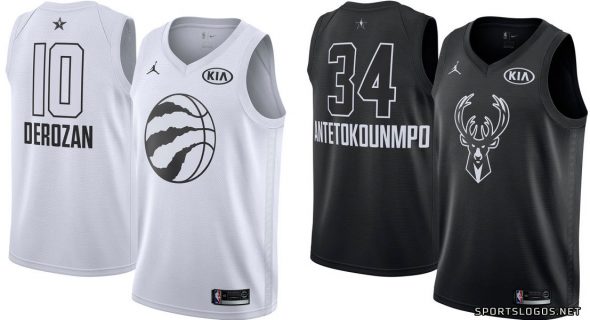 As you can see above, a bit of colour returned as a red/white/blue trim for 2019.
The 2020 NBA All-Star Game will take place in Chicago, Illinois on February 16th. Rosters, captains, team names all still to be determined.