This year's colourful Nike 2020 NBA All-Star weekend uniforms are inspired by the lines of the host city of Chicago's transit system and will include several tributes to David Stern as well as Kobe Bryant, his daughter Gianna, and the other seven victims of the helicopter crash in Los Angeles last month.
Earlier this weekend we saw purple and orange in the Rising Stars game, green and pink in the Celebrity Game, and brown and yellow for the Special Olympics game. Tonight in the actual All-Star Game Team LeBron and Team Giannis will wear blue and red.
These colourful (almost like a rainbow) lines show up again as decoration on the two All-Star Game uniforms, around the collar and arms and at the sides near the player's waist. Again, these colours (purple, orange, green, pink, brown, yellow, red, and blue) are a nod to the lines of the Chicago transit system.
Throughout the uniforms we see a six-pointed star with the NBA logo within it. This star shape is straight from the flag of the City of Chicago, the version with the NBA logo inside is actually the alternate logo for the 2020 All-Star Game itself. This star appears as the large logo on the front of the jersey, the smaller one on the back, and is even subtly incorporated into the pinstripes on the jerseys.
In memory of Kobe Bryant and his daughter Gianna who both died in a helicopter crash on January 26th, the game will feature the members of Team Giannis in red all wearing Kobe's number 24 and the members of Team LeBron in blue all wearing Gianna's number 2.
Both teams will also wear a special jersey patch featuring nine stars in recognition of all nine victims of that helicopter crash in addition to the memorial armband for former commissioner David Stern who died on January 1st.
The last few seasons teams had worn black and white uniforms with their team logos stripped of all colour and placed on the chest.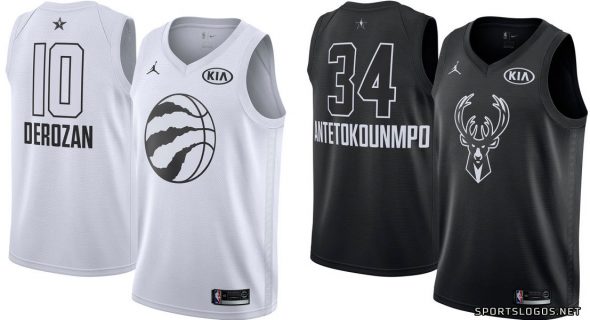 Earlier this month, the NBA announced the All-Star Game this year will be played in an entirely different format. Each of the first three quarters will be separate twelve-minute games with a winner determined for each with the winning team's charity of choice receiving a donation. The final quarter eliminates the clock, totals up the previous three quarters, then adds 24 (Kobe's number) to the higher number as a target score — the first team to then hit that total number of points wins the game.