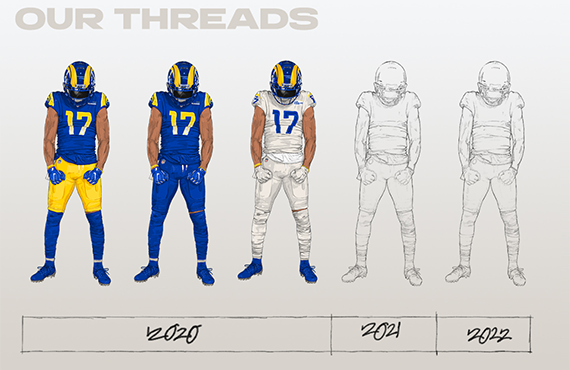 The Los Angeles Rams officially unveiled their new uniforms on Wednesday morning, which include a modernized metallic helmet, gradient numbers on the royal blue home jersey and a bone-colored road look. 
In doing so, the Rams also subtly announced on their website they'll reveal two additional alternate uniforms in 2021 and 2022, respectively.
While details on those uniforms are seemingly nonexistent, it's probably safe to assume one will be gold. After all, the Rams have worn all-gold Color Rush uniforms for the last six seasons, and they've been fairly popular among fans, too.
Los Angeles could go in a number of different directions with the other uniform, meanwhile.
With the NFL is seemingly on the verge of relaxing its one-helmet rule in the coming years, the Rams could introduce a second helmet into the rotation. Seeing as they've generally worn the same design since former fullback Fred Gehrke first painted horns onto his leather helmet in 1948, perhaps the new design will be carried over to a black or navy blue helmet and corresponding uniform.
Los Angeles could potentially reveal a blue-to-yellow or yellow-to-bone gradient uniform, as well, similar to the "Rise Up" alternate set introduced by the Atlanta Falcons last month. The gradient effect is used on the horns of the team's new "LA" logo, as well as the numbers on the home jersey and alternate royal blue pants, and would tie it all together with one design.
The possibilities are endless, so make sure to leave your idea(s) for the Rams' upcoming alternate uniforms in the comments below.
Photo via the Los Angeles Rams and illustration by Andrew Lind.