The Charlotte Hornets tweeted quite the teaser yesterday afternoon, one which has us wondering if the team is getting ready to announce a very welcome addition to their uniforms.
With only three pairs of interested eyeballs as the message, the Hornets posted a photo showing a teal sky with a few white clouds and four sets of white vertical pinstripes.
Please, oh please let this mean they're bringing pinstripes back to their uniforms.
Realistically, what else could it be?
The Charlotte Hornets wore pinstriped uniforms throughout the original franchise's entire run in North Carolina (1988-2002). After the team moved to New Orleans in 2002 the pinstripes were removed but they did return in 2008 and were worn until the Hornets finally gave up their name to the Charlotte Bobcats, changing their own name to the Pelicans in 2013.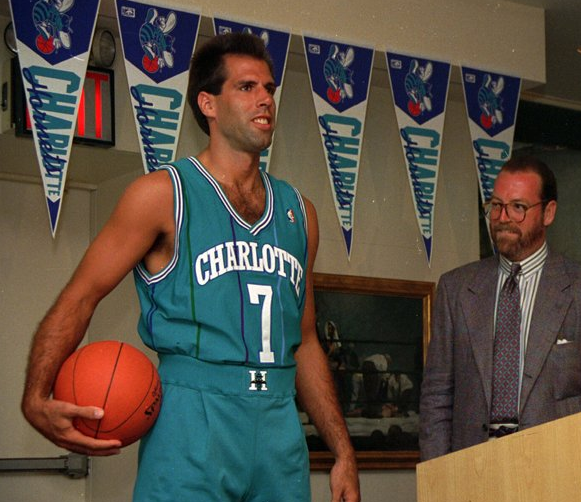 When the Bobcats brought the Hornets name back to Charlotte a year later, the uniforms were free of pinstripes, the only real gripe amongst a fanbase who was just thrilled to see their old name returned.
The clouds are a bit confusing but my gut is telling me it could be a reference to Charlotte's international airport code of CLT, this was an idea several Hornets fans brought up in the responses to their Tweet.
The Hornets have in recent seasons been wearing a purple jersey with the team's "CHA" abbreviation across the front rather than the more locally popular airport code of "CLT". Maybe this is the sign that this will be changing as well.
We'll ulitmately have to wait and see, but I'm pretty confident we'll see the full-time return of the pinstripes to the Charlotte Hornets uniforms for the 2020-21 NBA season restoring just a bit of order to the uni-verse.