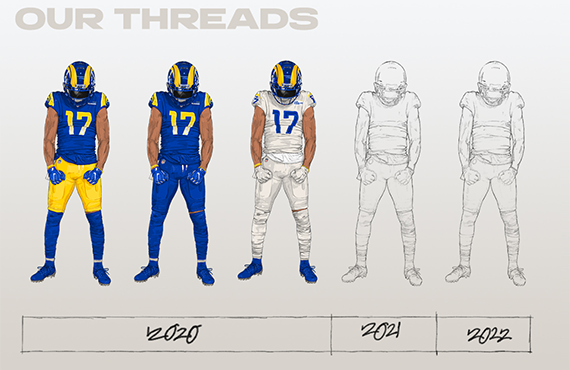 When the Los Angeles Rams unveiled their new home and road uniforms this spring, they also teased two alternate uniforms still to come in 2021 and 2022, respectively.
That said, Rams chief operating officer Kevin Demoff has plans that go well beyond that.
"Our goal, hopefully, is we can get to the point where maybe we can unveil a new uniform every year," Demoff said on the Rams Revealed podcast on Friday. "Maybe a little bit more of a European soccer model where you come out with that alternate jersey each year. Some people like that, some people don't. But yeah, we could see that."
Current NFL rules require teams to play five seasons in a uniform set before it can be changed, so we'll just have to assume the league has already approved the Rams' alternates for 2021 and 2022 along with their new home and road uniforms. That would give them a total of four different designs, the same number the Los Angeles Chargers unveiled this offseason. 
In order for the Rams to wear a new alternate uniform in 2023 and beyond, the league would have to either relax its five-year rule or give them an exemption.
The former is possible, especially since the NFL will reportedly do away with its one-helmet rule next season and allow teams that have changed the color of their helmet over the years to once again wear throwback uniforms. But the league is also notoriously strict about its uniform policy, so we'll have to wait and see if Demoff's wish comes true.
Photo courtesy of the Los Angeles Rams.