When will each team wear their Reverse Retro uniforms? Well you've come to the right place!
The 2020-21 NHL season saw a lot of new and unusual things, largely due to the pandemic, but one highlight was the introduction of the new Reverse Retro uniform series from Adidas.
The Reverse Retro uniform is a set for each team based on an older design from that team (or a team that played in that city) but with an element of it "reversed", whether that's the colours, or the logos being swapped around. We did a super deep dive on that already here, please read that if you're unfamiliar.
As the season goes on more and more teams have been releasing their Reverse Retro uniform schedules for the year, this is simply an easy-to-access, all-in-one collection of those schedules. Plan your solo viewing parties accordingly!
ANAHEIM DUCKS
Wild Wing returns! Now on a white jersey rather than the original jade. The (Mighty) Ducks will wear this infamous uniform only twice this season with the first game coming on February 26th.
February 27 vs Vegas
April 9 vs Colorado
---
ARIZONA COYOTES
The desert landscape uniforms return for the Coyotes in 2020-21 but now with a purple sky instead of the green worn back in the '90s. Arizona will wear their Reverse Retro uniforms five times this season starting February 13 against the Blues.
February 13 vs St. Louis
February 20 vs Los Angeles
February 27 vs Colorado
March 6 vs Minnesota
March 27 vs San Jose
---
BUFFALO SABRES
The Sabres will wear their white and gold Reverse Retro uniforms six times, all at home, during the 2021 season with their first games coming in back to back matchups against Washington on February 11th and 13th.
February 11 vs Washington
February 13 vs Washington
February 20 vs New Jersey
February 22 vs New Jersey
February 26 vs Philadelphia
March 11 vs Pittsburgh
---
CALGARY FLAMES
Y'know how the Flames finally dropped black from their colour scheme this season after several years of teasing a full-time return to red and gold… well, their Reverse Retro is an immediate return to that era with the re-emergence of the long lost all-black Blasty the flaming horse uniforms for six, once against each of their Canadian (North) Division opponents.
February 6 vs Edmonton
February 17 vs Vancouver
March 4 vs Ottawa
March 11 vs Montreal
March 26 vs Winnipeg
April 5 vs Toronto
---
CAROLINA HURRICANES
It's a crime the Hurricanes can release such an amazing Reverse Retro uniform, a silver version of the original 1979 Hartford Whalers set, and only wear it twice! But that's what we're getting this season. Too bad. They'll debut on February 19 vs the Blackhawks.
February 19 vs Chicago
April 10 vs Detroit
---
COLORADO AVALANCHE
The return of the Quebec Nordiques to the NHL, well at least in uni-form, will begin on February 20th when the Avalanche take on the Golden Knights outdoors at Lake Tahoe. Colorado will wear the Nordiques Reverse Retro uniforms six times this season, all of the indoor games in which they appear will take place in Denver and they'll all be played against either the Ducks or the Knights.
February 20 vs Vegas (outdoors)
February 22 vs Vegas
March 5 vs Anaheim
March 6 vs Anaheim
March 25 vs Vegas
March 27 vs Vegas
---
COLUMBUS BLUE JACKETS
Columbus is throwing back to their expansion season design, now red and without (why?!) the Stinger patches on the shoulders. The Jackets will wear their red set four times this season, all games at home.
February 2 vs Dallas
February 20 vs Nashville
March 13 vs Dallas
April 6 vs Tampa Bay
---
DALLAS STARS
The Stars all white (yes, pants included) 1999 Reverse Retro uniform will be worn three times this year. The star pattern returns after a lenghty break, the team won the Stanley Cup wearing this set, though in a more eye-pleasing colour scheme.
February 15 vs Nashville
March 4 vs Columbus
March 6 vs Columbus
---
EDMONTON OILERS
The Oilers are wearing their orange-pant Reverse Retro set three times this season, and they'll be worn more often in Vancouver than they will at home in Edmonton.
January 30 vs Toronto
February 23 at Vancouver
February 25 at Vancouver
---
FLORIDA PANTHERS
Florida is throwing back to a slightly re-coloured version of what was essentially their navy blue uniforms for several years in the late '90s and early '00s. The Panthers will wear this set five times this season with the debut set for February 13th.
February 13 vs Tampa Bay
February 27 vs Carolina
March 13 vs Chicago
March 20 vs Nashville
April 3 vs Columbus
---
LOS ANGELES KINGS
The Kings excellent purple and gold Reverse Retro uniform will be seen four times this season, with their debut on February 2. The Feb 27th date at Minnesota will be a battle of two expansion six colour schemes as the Wild will wear the green and gold of the original Minnesota North Stars.
February 2 vs Anaheim
February 27 at Minnesota
March 17 vs St. Louis
April 14 vs Vegas
---
MINNESOTA WILD
Minnesota's green-and-gold North Stars inspired two-franchise hybrid uniforms will be worn six times this season, they debuted on January 31 against the Avalanche.
January 31 vs Colorado
February 6 vs Arizona
February 7 vs Arizona
February 27 vs Los Angeles
March 3 at Vegas
March 6 at Arizona
---
MONTREAL CANADIENS
The Habs will flip around the colours on their familiar home sweaters for six games this season, now an all blue uniform with a single red stripe across the chest and sleeves. It feels right.
February 4 vs Ottawa
February 11 vs Edmonton
February 20 vs Toronto
March 4 vs Winnipeg
March 20 vs Vancouver
March 24 vs Edmonton
---
NASHVILLE PREDATORS
The Nashville Preators will wear their gold Reverse Retro uniforms six times in 2020-21, four times at home. They'll debut on Monday, February 8th against the Tampa Bay Lightning.
February 8 vs Tampa Bay
February 15 at Dallas
March 6 vs Florida
March 23 vs Detroit
April 4 vs Chicago
April 6 at Detroit
---
NEW JERSEY DEVILS
New Jersey's new green jersey, which is the first time the team's main/primary uniform colour will be neither red nor white, will be worn six times this season.
February 9 vs Pittsburgh
February 23 vs NY Islanders
March 5 vs NY Rangers
March 16 vs Buffalo
March 21 vs Pittsburgh
April 2 vs Washington
---
NEW YORK RANGERS
The Rangers return to the classic Lady Liberty uniforms this season for six, the first of which will be February 4th against the Capitals.
February 4 vs Washington
February 8 vs NY Islanders
February 28 vs Boston
March 4 vs New Jersey
March 17 vs Philadelphia
April 15 vs New Jersey
---
PHILADELPHIA FLYERS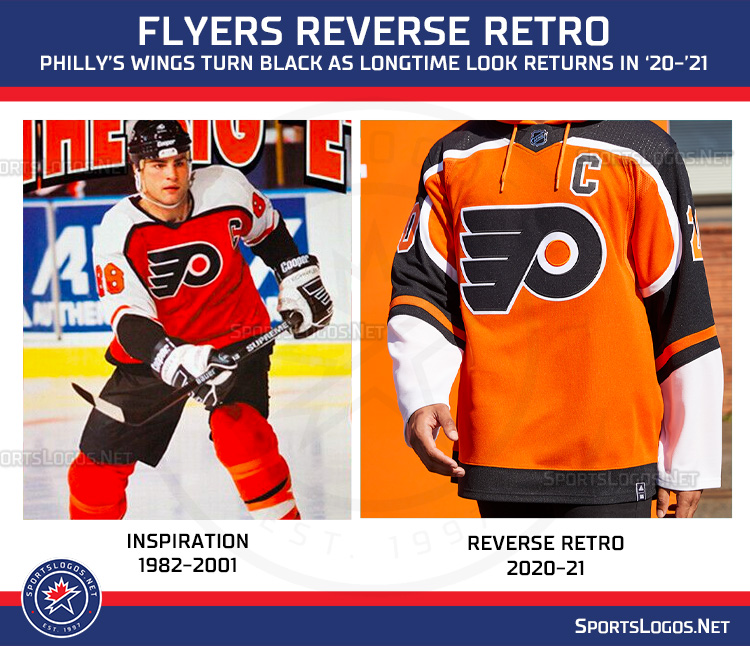 Philly's orange and black throwback to the days of the Legion of Doom line will be worn seven times in 2020-21, the first coming against the Bruins on February 3rd. They'll also be worn outdoors at Lake Tahoe on February 21st.
February 3 vs Boston
February 11 vs New Jersey
February 21 vs Boston (outdoors)
February 24 vs NY Rangers
March 13 vs Washington
March 27 vs NY Rangers
April 15 at Pittsburgh
---
PITTSBURGH PENGUINS
Pittsburgh's white Reverse Retro jersey with the diagonal "PITTSBURGH" wordmark will be worn six times this season and only once at home when the Flyers will visit wearing their own Reverse Retros. The Pens new/old look made its debut on February 1st at Madison Square Garden.
February 1 at NY Rangers
February 23 at Washington
March 13 at Buffalo
March 21 at New Jersey
April 3 at Boston
April 15 vs Philadelphia
---
ST. LOUIS BLUES
The Blues are wearing a direct flip of their 1996 style uniforms, what was blue is now red, what was red is now blue (the gold seems to be staying right where it was), giving us a very red-heavy design for the traditionally blue franchise.
February 4 vs Arizona
February 22 vs Los Angeles
---
TAMPA BAY LIGHTNING
Tampa Bay's blue throwback to their 2004 Stanley Cup winning uniforms will be worn just three times this season, all of which will be at home in Tampa.
February 5 vs Detroit
February 25 vs Carolina
March 18 vs Chicago
---
TORONTO MAPLE LEAFS
The Leafs' Reverse Retro uniforms will only be worn four times this season with their debut coming on January 30th on the road in Edmonton.
January 30 at Edmonton
February 6 vs Vancouver
February 24 vs Calgary
March 9 vs Winnipeg
---
VANCOUVER CANUCKS
Vancouver's blue to green gradient set will be worn during a four-game homestand in February, twice against the Jets and twice against the Oilers (who will also be wearing their Reverse Retros for both games)
February 19 vs Winnipeg
February 21 vs Winnipeg
February 23 vs Edmonton
February 25 vs Edmonton
---
WASHINGTON CAPITALS
A throwback to the Caps screaming eagle uniform of the late '90s/early '00s, Washington will wear this red-white-and-blue version of their old uniform on four Tuesdays this season with the debut set for February 9 vs Philadelphia.
February 9 vs Philadelphia
February 23 vs Pittsburgh
March 9 vs New Jersey
March 16 vs NY Islanders
---
WINNIPEG JETS
The Jets will wear a grey version of the old Jets' 1979 uniforms twice this year, the first time coming on February 4th against the Calgary Flames.
February 4 vs Calgary
March 2 vs Vancouver
Wondering why your team isn't listed above? Their Reverse Retro uniform schedule either wasn't available at the time I wrote this or, quite possibly, I simply couldn't find it. Please share in the comments below if you know of a team's schedule that I missed.