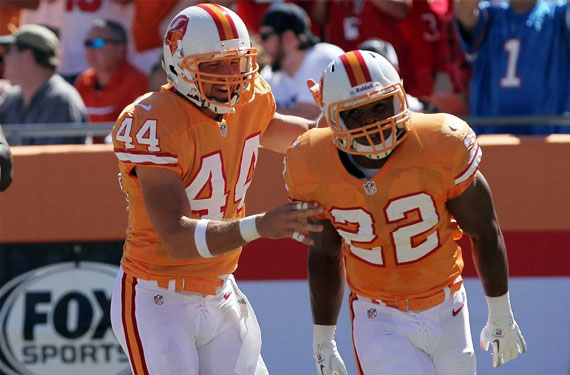 In a memo sent on Thursday afternoon, the NFL announced that teams will be permitted to wear two different helmets starting with the 2022 season.
Players have only been allowed to wear one helmet per season since 2013 as the league attempted to reduce head injuries. That's lead to a number of teams wearing inaccurate throwback uniform or not wear one at all, specifically those that have changed the color of their shell throughout the course of their team's history.
This includes the Tampa Bay Buccaneers and New England Patriots, who both wore white helmets before switching to pewter and silver, respectively. The Tennessee Titans, on the other hand, have not been able to wear their Houston Oilers throwback uniforms after moving to a navy blue lid.
The same goes for the Atlanta Falcons (black, formerly red), Buffalo Bills (white, formerly red), Denver Broncos (navy blue, formerly royal blue), Philadelphia Eagles (midnight green, formerly Kelly green) and several others.
Teams will now be able to wear a helmet that matches their throwback, alternate or Color Rush uniforms, so long as the throwbacks are historically accurate and any new alternates use a logo from the team's history.
In an attempt to maximize safety, the league is requiring that the second helmet match the make, model and size of the player's first helmet and both be fitted at the same in training camp. They should also be worn, at minimum, the week leading up to the game in which they'll be used.
Lastly, teams must inform the NFL of their intent to wear a second helmet during the 2022 season by July 31, 2021.
Photos courtesy of the Tampa Bay Buccaneers. and Atlanta Falcons.