Good afternoon baseball fans, welcome to the best day of the year.
Today the 2022 Major League Baseball regular season gets underway where, for the first time in three years, the season starts with all stadiums operating at 100% full capacity (and the Blue Jays are actually playing in their home country!). Fingers crossed we can get through this season without any catastrophic challenges.
It's also our last season without ads on uniforms, teams will be able to wear 4″ x 4″ advertisements on their jersey sleeves beginning with the 2023 season. Helmets will also be open for ads, though those will be sold and controlled by the league, not the teams, and can (and absolutely will) commence with the 2022 Postseason. Yeah, *this* Postseason, meaning we've already lived through our last ever uniform ad-free World Series. Past tense!
As always, I'm starting the season by staying up way too late to bring you this needlessly comprehensive look at all the new logos, uniforms, patches, and other interesting design-related bits of news for the brand new season. If you notice any errors, keep in mind I was extremely tired. Thank you.
I'll begin by going through the league-wide events in chronological order before going into a team-by-team breakdown presented in alphabetical order, starting with the National League clubs and finishing with the American League (yes, the leagues are in reverse alphabetical order, just because).
Enjoy!
2022 Opening Day, April 7
A slightly new look for the Major League Baseball's Opening Day logo in 2022. We get basically the same overall design that's been in use since 2018 but now the red, white, and blue bunting has been given some depth courtesy of a bit of shading. You can look back at past Opening Day logos here.
---
Jackie Robinson Day, April 15
The 75th anniversary of Jackie Robinson's debut gives us a special Jackie 75 logo (which will not be worn on jerseys) and Brooklyn Dodger style numbers on *all* player uniforms on April 15. Full details on the 2022 Jackie Robinson Day logo, patch, and uniform plans are right here.
SHOP: Jackie Robinson Day 2022 caps, jerseys, shirts & more available here
---
2022 All-Star Game at Dodger Stadium, July 19
The 2022 MLB All-Star Game will be held at Dodger Stadium in Los Angeles on July 19. The logo is simply a carbon copy (year aside) of what was set to be used for the 2020 game before it was cancelled due to the COVID-19 pandemic. The outside shape of the logo is designed to resemble the scoreboard at Dodger Stadium. Of course, if the 2021 game is any indicator, we will likely see specialized in-game jerseys once again during the game. Boo.
---
2022 MLB at Field of Dreams, August 11
The Chicago Cubs and Cincinnati Reds will take part in the second annual MLB at Field of Dreams Game, held in the vast cornfields of Iowa near the set of the movie Field of Dreams, on August 11. Both the Cubs and Reds have yet to unveil their uniforms for the game but based on what the Yankees and White Sox wore last season, something from over 100 years ago, for both, wouldn't be so bad.
---
2022 MLB Little League Classic, August 21
In Williamsport, it'll be the Boston Red Sox and Baltimore Orioles taking part in the annual Little League Classic. Both clubs will likely wear Little League-style uniforms, yet to be unveiled, but last year's game put the Indians and Angels in uniforms that noted their region (Great Lakes vs West) much like the uniforms the kids wear in the actual Little League World Series. The 2022 MLB Little League Classic will be held on August 21.
---
2022 MLB Postseason, October
The 2022 MLB Postseason logo features two flags – one silver, one gold – waving below the "POSTSEASON" wordmark in navy blue with gold horizontal stripes and the year flanking the flag below. We're still waiting to see the logos for the 2022 World Series, LCS, LDS, and Wild Card Series rounds but they will all likely follow the similar theme and style as the logo above. More on the 2022 Postseason logo here.
---
Nike MLB City Connect
Fourteen MLB teams will wear Nike MLB City Connect uniforms in 2022, seven previously unveiled last season (Arizona, Boston, Chicagos Cubs and White Sox, the LA Dodgers, Miami, and San Francisco) and seven new ones will be introduced throughout the year (Colorado, Houston, Kansas City, LA Angels, Milwaukee, San Diego, and Washington). For details on any of those uniforms click the linked team name in the previous sentence, if it's not underlined, then it's not yet released.
SHOP: City Connect caps, jerseys, and more are available for sale now
---
The Holidays
Once again the league will do something special on the field for Mother's Day, Armed Forces Day, Father's Day, and Independence Day. I'm being told the plans will be similar to what was done in 2021, special themed caps, and normal jerseys. Nothing has been revealed yet, of course, I will have full coverage of that when they're out. Expect the appropriate poppy patch again on Memorial Day.
---
Player's Weekend
This isn't a thing anymore, as far as I can tell. Nothing in 2020, nothing in 2021. I'm not expecting one in 2022. Add it to the list of retired uniform promotions, and slide it right next to "Turn Ahead the Clock".
---
Moving on to the team-by-team breakdown…
ARIZONA DIAMONDBACKS
The Arizona Diamondbacks have introduced a new alternate cap this season, a Sedona red crown with a black visor and black button with the club's primary "A"-snake head logo on the front. I've no idea what the plan or schedule is for actually wearing the cap, it's simply listed as their "Alternate 3" cap officially. Personally, I think it would look pretty good with either their home white or alternate red jerseys. This new D-Backs alternate red cap is available for purchase now.
Other possible uniform events for the D-Backs this year include the return of their City Connect "Serpientes" uniforms introduced last season — the ballclub has set aside games from April 24-27 as their Días Del Niño promotional series which includes Serpientes-inspired giveaways, there's also their Hispanic Heritage Weekend from September 16-18 in which we could see more of those Sonoran Sand uniforms.
---
ATLANTA BRAVES
The champs kick things off with, of course, some slick gold-trimmed uniforms over what looks to be a week-long celebration. The Atlanta Braves are running a "Champions Week" promotion from April 8 through 13 during which I would expect them to exclusively wear this special set. More on the details of these uniforms here, and you can buy your own golden Braves cap or jersey here.
Atlanta is also throwing a Hank Aaron Weekend when the Milwaukee Brewers come to town from May 6 – 8 during which we could certainly see the return of their 1970s style throwback uniforms. We could also see the team's "Los Bravos" uniforms on September 16, a date which they've labelled "Los Bravos Night." Seems like a pretty reasonable assumption there.
Another change that is much less noticeable but still has to be mentioned on a site such as this, the Braves have changed their shade of yellow (yes, the Braves have yellow in their colour scheme). The team is reverting back to the same yellow previously used on the tomahawk on their logo and jersey prior to their colour shift in 2018, from the Pantone 7555 used from 2018-21 to a Pantone 124, used originally from 1987-2017.
---
CHICAGO CUBS
The biggest uniform-related event, as far as we can tell, for the Chicago Cubs in 2022 is that they'll be participating in the 2nd annual MLB at Field of Dreams Game. The Cubs will be taking on the Cincinnati Reds at the site of the famous cornfield ballpark in Dyersville, Iowa on August 11. Last year, in the first edition of this event, both the New York Yankees and Chicago White Sox wore 1910s-style uniforms. The Cubs' design for 2022 has yet to be revealed.
Aside from that, the Cubs will naturally be bringing back their head-to-toe navy blue "Wrigleyville" City Connect uniforms, no schedule for those yet but I see they're giving away bobbleheads of players wearing the Wrigleyville set on May 21 and September 17, so keep your eyes out for those dates. Finally, there's a 1984 throwback jersey giveaway set for April 23, so another *possible* throwback uniform date there.
---
CINCINNATI REDS
Cincinnati's most significant uniform news of 2022 is what they're eliminating. The green and white military-inspired set and the Spanish "Los Rojos" uniforms have both been removed as *official alternate uniforms* by the club. Now, this doesn't necessarily mean both those uniforms are gone entirely, in the past we've seen teams remove similar "alternate" sets only to still see them pop up as a one-game-only specialty jersey during the season (see: Toronto Blue Jays, all-red uniforms).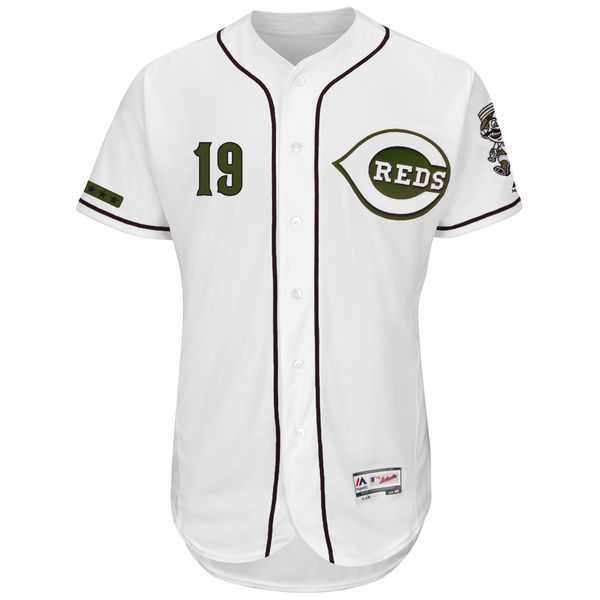 Otherwise, as you just read above in the Chicago Cubs section, the Reds will be taking part in the MLB at Field of Dreams Game in Iowa on August 11 where we expect them to wear uniforms from at least over a century ago. Design still to be unveiled.
---
COLORADO ROCKIES
The Colorado Rockies will be joining the City Connect club when they take to the field wearing the new set for the first time on June 4; I imagine they'll be unveiled about a week prior to that date. Colorado will also take part in a Negro Leagues tribute night as the road team in Milwaukee on July 22 – in the past, the Rockies have honoured the Denver Bears, I would expect them to do the same for this one.
---
LOS ANGELES DODGERS
As host of the 2022 All-Star Game, the Los Angeles Dodgers will celebrate that fact by wearing the All-Star Game logo as a patch on their jersey sleeves and side of their caps all season. It's the same logo as what the Dodgers would've worn in 2020 had the world not collapsed. You can buy Dodgers caps with the 2022 All-Star patch here.
The Dodgers have officially eliminated their rarely (possibly never?) worn alternate blue jerseys (sorry, Justin Turner), AND have added a shade of grey to their official colour scheme. Previously the Dodgers had a metallic silver in addition to their usual blue, white, and red from 1999 to 2006 — note, this is not that silver, this is something new, and the reason why they've added the new colour remains a big ole question mark for now.
Los Angeles is another City Connect club from last season that's giving us a few possible clues as to when they'll wear it again in 2022. The Dodgers' all-blue "Los Dodgers" design could be worn during their "Viva Los Dodgers" games on April 17, May 15, June 19, July 24, and August 21. There's also a Los Dodgers-related giveaway on April 19, and a "Dia de Los Dodgers" Day on September 20.
As a road team, the Dodgers will be playing in a Negro Leagues tribute game in Kansas City as the Royals do their annual salute to the Kansas City Monarchs, this season set for August 13.
---
MIAMI MARLINS
The Miami Marlins will be celebrating the 25th anniversary of the Florida Marlins World Series championship from 1997 on May 14. Could we see the teal throwbacks that day? I mean, it seems like it should be a pretty easy call, it would be universally praised… but this *is* the Marlins after all. We'll cross our fingers and hope for the best here.
Miami is also another City Connect team from 2021 but no hint as to when we'll see their Havana Sugar Kings-inspired set make a return this year.
---
MILWAUKEE BREWERS
Milwaukee's Brewers will wear their new City Connect uniform for the first time on June 24, it should be unveiled about a week before that.
The Brewers will be hosting a Negro Leagues tribute game on July 22 against Colorado where I would expect them to wear a Milwaukee Bears throwback uniform. There's a '90s theme set for their game on May 21 in which we probably won't see a throwback but, hey, I'd be happy to see the blue/green "Motre Bame" set once more. Finally, September 17 is listed as "Cerveceros Night", which in the past has meant Spanish-language uniforms, though they haven't done so since rebranding before the 2020 season.
---
NEW YORK METS
The New York Mets are slowly re-embracing their history as a team that, yes, once wore black, even if the use of black at the time was widely panned. Sometimes you have to lose something to realize you secretly loved it all along? Anyways, the back is black officially in 2022 as an alternate jersey and cap, already available for sale here.
Also new is a new set of blank white pants, which is set to be worn with both their blue and black alternate jerseys. Speaking of blue alternate jerseys, as of 2022 there's only one, the silver-lettered "NEW YORK" alternate blue top has been officially eliminated.
The Mets will be celebrating their 60th anniversary throughout the season with a commemorative logo but there are *no* plans to wear this logo as a patch on their jerseys.
Other dates of note, Seinfeld actor Keith Hernandez will have his number retired by the Mets on July 9 and the team will giveaway Brooklyn Dodger style t-shirts for Jackie Robinson Day on April 15.
---
PHILADELPHIA PHILLIES
Not much of interest for the Phillies, uniform-wise in 2022 from what I can see. They'll have their annual Phillies Wall of Fame game on August 6, with an Alumni Day set for one day later on August 7. Perhaps an opportunity for throwbacks there, but of course, they already wear their powder blue retro set as an official alternate uniform.
---
PITTSBURGH PIRATES
The Pittsburgh Pirates will wear Pittsburgh Crawfords jerseys as they host the St. Louis Cardinals for their salute to the Negro Leagues on September 9. We have yet to see which of the Crawfords many uniform styles the Pirates will turn back to this year, but you can see an example of what they've worn in the past in the photo above.
---
SAN DIEGO PADRES
San Diego is another one of the new teams to debut a City Connect uniform in 2022, the Padres are set to wear theirs for the first time on July 8. If early reports are to be believed, it's very bright and not at all what you'd expect the Padres to wear, at least in terms of the colour scheme.
We have the potential for a throwback uniform when the Padres are set to giveaway a 1984 Tony Gwynn "shirsey" at their game on May 9.
---
SAN FRANCISCO GIANTS
Nothing set in stone for the San Francisco Giants on the uniform front, they're hosting a Cinco de Mayo celebration on May 5 and Fiesta Gigantes night on September 18 — both would be a good opportunity to wear their Gigantes jerseys again. On June 11 the Giants are holding their annual Pride Night, during which they wore caps with a rainbow-patterned "SF" logo in 2021.
The Giants have announced they will wear their orange-and-white City Connect uniforms unveiled back in 2021 during Tuesday home games throughout the 2022 season.
---
ST. LOUIS CARDINALS
The St. Louis Cardinals will visit the Pittsburgh Pirates on their Negro Leagues Night on September 9 where I would expect both clubs to wear Negro League throwback uniforms. The Cards are also celebrating the 40th anniversary of their 1982 World Series championship over the course of several games this season (May 13, May 27, August 12-14) which could give us some throwbacks — though they'll likely instead just wear their modern-day powder blue uniforms.
On September 15 the Cardinals are hosting a Halfway to St Patrick's Day event which, perhaps, could give us their so-far unused green 2022 St. Patrick's Day Spring Training caps? Something to watch for.
---
WASHINGTON NATIONALS
A lot of quiet, confusing changes for the Washington Nationals (aside from the cherry blossom-themed City Connect uniforms). I'll start off by trying to get through this Nats uniform mess; please bear with me here.
According to my resources, the scripted "Nationals" white jersey (previously an alternate) is now officially categorized as the Nats' home jersey, to be paired with the white-panel "W" Capitol cap. I'm noticing all the online shops still list this as an alternate, so I'm not 100% sure on this, it's possible the team flip-flopped at the last moment… anyways, something to keep an eye on.
Now if that scripted jersey is indeed the new home, then the curly red "W" white jersey would be history (again, it *is* history according to my sources, but this is another situation where online shops still show it as their "home", so *shrug*). The red cap worn with that set will be downgraded to "alternate cap" status, which doesn't change much beyond an official designation. Likely gone is the never-used pitcher-Capitol alternate cap (I don't think anyone beyond the most knowledgable cap fans even knew this one was part of their official set for the past two seasons), and finally, the stars-and-stripes "W" cap and jersey have both been removed as official uniforms (note: I see the stars-and-stripes "W" logo show up A LOT on the Nationals promo schedule, I wonder if we'll still see it worn here-and-there despite being removed as an alternate).
A lot of question marks with the Nats, take the news above with all of that in mind.
As mentioned, the Nationals introduced a new cherry blossom themed City Connect uniform for 2022; at the time of Opening Day, the Nats are the only team to have unveiled their City Connect set for the new season (Houston will be next, set to do so in the next week). The uniform is dark grey with pink cherry blossoms throughout, a large "WSH" across the chest. I covered the jersey *extensively* last week, you can read that here. You can buy the new Washington Nationals City Connect cap and jerseys here. So far, the Nationals are scheduled to wear their Cherry Blossom uniforms on April 9, April 10, and April 23.
---
BALTIMORE ORIOLES
The Baltimore Orioles will be celebrating the 30th anniversary of their classic home ballpark Oriole Park at Camden Yards. The O's will be wearing a 30th anniversary patch throughout the season on the sleeves of their home, road, and alternate jerseys.
Baltimore will be playing in the 2022 Little League Classic at Williamsport, Pennsylvania on August 21 against the Boston Red Sox. Expect whimsical, Little League-themed uniforms for "The Birds" or maybe "The O's" on that night, design yet to be revealed. A reminder of what was worn last year by Cleveland and Los Angeles for this one.
In non-uniform, but still design-worthy news, the Orioles have reconfigured the home run fence in left field at Oriole Park, a considerable nook and cranny that would make a ballpark like Fenway proud.
---
BOSTON RED SOX
The Red Sox will be honouring the memory of former player and broadcaster Jerry Remy with a memorial patch on all their jersey sleeves throughout 2022.
The yellow and powder blue Boston Marathon-themed City Connect jersey is returning this year, promotional giveaways suggest they'll be worn on April 16 (though likely they'll be worn that entire weekend). The Boston Marathon is set for April 18 this year, expect to see the "BOSTON Strong" uniforms in their game that morning.
As mentioned one team up, the Boston Red Sox will play in the Little League Classic on August 21, an event that always brings us colourful and fun pullover uniform designs. We'll have to wait for this one to come out.
---
CHICAGO WHITE SOX
Another City Connect holdover from 2021, the White Sox will have a bobblehead featuring their all-black City Connect "Southside" uniforms scheduled for April 16 – which could be our first look at that all-black set this season; there's also a "Southside" hockey jersey giveaway on April 30.
On September 3, the White Sox will hold their annual Halfway to St Patrick's Day game during which they have occasionally worn green caps.
---
CLEVELAND GUARDIANS
Did these guys change anything?
The former Cleveland Redacteds have a new name (the Guardians), a new logo (a split-fingered G ball with wings), new uniforms, but the exact same colours — we're easing ourselves into the new identity. The new name was inspired by the Guardians of Traffic statues that gate the Hope Memorial Bridge near Cleveland's Progressive Field.
Uniforms are essentially the same as what we saw last year, home jerseys now read "Guardians" across the chest in the same colours but a new typeface, road jerseys say "Cleveland". The team's primary logo (that G-wing thing) is on the sleeve of all jerseys. Caps are again navy blue/red at home, navy blue on the road, with a new logo – an angled red "C" trimmed in white. This angled look of the "C" carries over to the player names and numbers on the jerseys.
Way more on the new Cleveland Guardians name, logos, and uniforms from my in-depth post last summer right here. If you're interested in updating your Major League Baseball cap or jersey collection and need that new Guardians gear to make it happen, well, you can shop for that right here.
---
DETROIT TIGERS
The Detroit Tigers are wearing a memorial patch this season, the initials "KB" in white on a black circle paying tribute to Kimera Bartee, the team's first base coach who died suddenly in December 2021 at the age of 49.
The Detroit Tigers will host their annual Negro Leagues tribute weekend from June 17-19 where they'll likely wear Detroit Stars uniforms. There's a Fiesta Tigres celebration set for August 19-20 during which we could see the scripted "Tigres" jerseys again. Detroit will retire Lou Whitaker's number before their game on August 6.
---
HOUSTON ASTROS
The Astros are celebrating the 60th anniversary of their franchise's expansion season (which includes their brief stint as the Houston Colt 45s), they'll be doing this by wearing a 60th year patch on the sleeves of all their jerseys and the sides of all their caps throughout 2022.
There are a series of promotional throwback jersey giveaways for the Astros this season which could give us a glimpse of possible throwback uniform dates. These are spread out apart at a pace of about one decade per month. We start with the 1960s Colt 45s on April 22, the 1970s rainbow set on May 6, an unspecified 1980s jersey (rainbow sleeves?) on June 10, the surely blue-and-gold 1990s jersey on July 1, and that old west set from the 2000s on August 12. Again, these are just jersey giveaways, but it doesn't seem all that unrealistic to see a throwback jersey or two during a milestone anniversary season, especially with this team.
Finally, the Astros will wear a brand new, space-themed "Space City" City Connect uniform for the first time on April 20 and then for every Monday home game for the rest of the season. You can read our coverage on the new uniform right here or you can buy your own Space City cap or jersey here.
---
KANSAS CITY ROYALS
There were several uniform changes for the Kansas City Royals heading into the 2022 season.
There's a new road uniform that brings back the old 1970s "KANSAS CITY" wordmark across their chest. A new royal blue road alternate reuses this same wordmark. The road pants have been updated to remove the white stripe down the side, now just a single blue stripe. At home, the Royals powder blue jersey has removed the blue trim from the outside of the "Royals" scripted wordmark and player numbers, now it's simply white on powder blue as the Royals did when they originally wore their powder blues in the 1970s, 80s, and 90s.
In with the new, out with the old. In addition to the replacement of the like-coloured sets from last season, the Royals' golden alternate uniforms are history. They were first introduced as an opening night uniform in 2016 to celebrate the World Championship in '15, the Royals liked them so much that they brought them back, tweaked a bit, in 2017 and rode with them for six seasons in total. Also gone is the "Los Reales" jersey as an alternate, this feels similar to the Reds' elimination of their "Los Rojos" jersey, I bet we still see it at least once a year.
Kansas City will wear a memorial patch on their home, road, and alternate uniforms throughout 2022 in honour of Art Stewart, a scout and front office employee who had been with the Royals from their first season in 1969 right up until his death in the fall of 2021. Incredible.
The Royals will wear their new, yet-to-be-unveiled City Connect uniform for the first time on April 30, they'll giveaway a black jersey from the early 2000s on July 11 (throwbacks?), and they'll host their annual Salute to the Negro Leagues game during which they'll wear Kansas City Monarchs throwback uniforms against the Los Angeles Dodgers on August 13.
---
LOS ANGELES ANGELS
The Los Angeles Angels will debut their new City Connect uniform (yes, but what "city" will this "connect" with?) on June 11. They'll be holding their annual Throwback Weekend, when we usually see their 1970s throwback pullover uniforms, against Texas from July 29-31. The Angels will also be the visitors during the Seattle Mariners' tribute to the Negro Leagues on June 18.
---
MINNESOTA TWINS
Nothin' happening in Minnesota this year. Please refer to your 2021 wardrobes.
---
NEW YORK YANKEES
The New York Yankees made a change to their cap logo in their official style guide, it will not result in any change to the on-field product but should result in more accurate portrayals of their cap on digital applications. Old-Timers Day is set for July 30, and Seinfeld actor Paul O'Neill will have his number 21 retired by the team on August 21. Big year for Seinfeld in baseball.
---
OAKLAND ATHLETICS
The Oakland Athletics will wear a memorial patch for their former catcher and longtime team broadcaster Ray Fosse on their home white jerseys only. The patch reads "RAY" in green lettering on a gold circle trimmed in white and green. In front of the "RAY" is a green and white microphone containing a yellow A's cap logo. In the background, we see the white outline of a catcher's mask. This is a tribute to Fosse's career with the Athletics beginning as a catcher in the 1970s and finishing as a broadcaster in 2021.
In other news, the Athletics dark green alternate jersey has been kicked off the team in favour of the incredibly popular Kelly green alternate. That Kelly green is so popular, in fact, that for the 2022 season the A's have added Kelly green as an official team colour, making their official colour scheme now green, gold, white, and Kelly green.
---
SEATTLE MARINERS
Seattle will wear 1946 Seattle Steelheads Negro Leagues uniforms when they host the Los Angeles Angels on June 18 during the first game of their doubleheader that day. There is also a Steelheads tribute scheduled for Juneteenth one day later, but it's not clear if the Steelheads uniforms will also be worn for that one.
The Mariners have a series of retro-themed nights on the schedule but I've been told not to expect on-field throwbacks to accompany them. Those nights are 1990s Night on May 27, a 1984 retro jersey giveaway on August 6, and Hispanic Heritage Night on September 14.
---
TAMPA BAY RAYS
I'm hearing, but not confirming a new powder blue alternate jersey for the Tampa Bay Rays in 2022, with the "RAYS" wordmark stripped away and replaced with the yellow glint of the sun — basically, their Spring Training uniform getting the call to join the team for the regular season. Congrats on making the big league roster! Speaking of that "glint", it's now an official alternate team logo, a big year for that little ray of sunshine.
There will also be a series of Tampa Bay Devil Rays throwback uniform nights in 2022, you can expect to enjoy the rainbow gradient nightmare of the late 1990s on May 28, June 25, July 30, August 20, and September 24.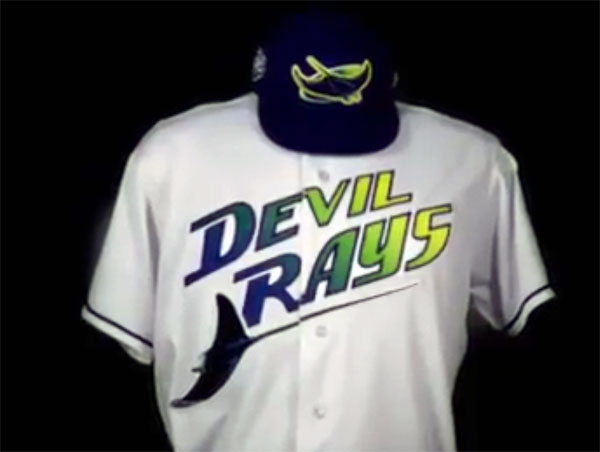 Tampa Bay will be the visiting team in Toronto on Canada Day, we could see the Rays add a Canadian flag patch to their jerseys as some other fun-loving clubs have done in recent years.
---
TEXAS RANGERS
The Texas Rangers are marking 50 years since moving down to Texas from Washington in 1972 with a commemorative jersey sleeve patch. The 50th anniversary patch shows the cowboy hat from the original 1970s Rangers logo. Clever. As part of those 50th anniversary celebrations are a series of five games in which the Rangers will wear their 1972 home white throwback uniforms. The five games in 2022 we'll see the 1972 Texas Rangers uniforms in are:
Saturday, April 30 vs the Atlanta Braves
Saturday, June 25 vs the Washington Nationals
Saturday, August 13 vs the Seattle Mariners
Sunday, September 25 vs the Cleveland Guardians
Wednesday, October 5 vs the New York Yankees
Texas will be visiting the Detroit Tigers during their Negro Leagues weekend from June 17 – 19 and will be in Anaheim for the Angels' Throwback weekend July 29-31.
A minor note, the "T" logo worn on the Rangers' caps will now be an official alternate logo. Another logo promotion!
---
TORONTO BLUE JAYS
The Blue Jays will, of course, wear red for their home game against the Tampa Bay Rays on Canada Day, July 1. A couple of throwback-friendly giveaways include a 1990s vintage shirt giveaway on June 17 and a 30th anniversary celebration of the 1992 World Series champions on August 27.
Toronto also made some significant upgrades to the video scoreboard at Rogers Centre this year almost doubling its overall size swallowing up an entire restaurant in the process (and they appear to have added a banner for participating in the 2020 Wild Card Series… hey teams, don't start doing this)
---
Alright, that's all I got for you for 2022, funny I went into this article thinking "this will be a short one, nobody changed anything," and then I went out having written, I believe, the longest article ever on this site? Someone out there probably knows the answer to that one but I'm counting darn near 5000 words here.
If you'd like to help support what we do here, you can just shop shop shop (like you would've done anyways!) using the affiliate links throughout this article. Or, the next time you're looking to buy a new cap, jersey, or some other team merchandise online from Fanatics, simply do so after clicking this link here. It helps and it's super appreciated!!
Baseball!