German Bundesliga powerhouse Bayern Munich is combining traditional and modern motifs on their new home kit for the 2022-23 season.
The jersey was unveiled on the club's website Thursday, though eagle-eyed shoppers browsing Bayern's online store got a sneak peek of it as early as Wednesday. The shirt is predominantly bright red — a change from the 2021-22 home kit, which featured a darker shade of red — with white horizontal stripes of varying thickness across the front. The back and sleeves are solid red, and the crew neck collar and sleeve cuffs are white. The "MIA SAN MIA" club slogan appears on the back collar.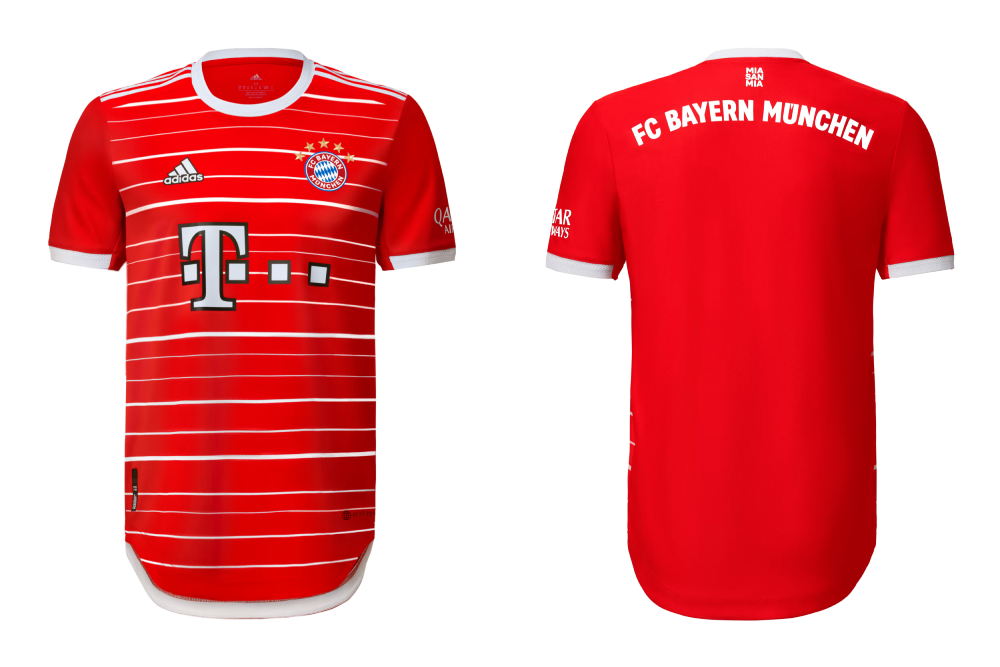 The logos of sponsors Adidas and Deutsche Telekom are white with black borders. These appear to be the only instances of black on the entire kit. Deutsche Telekom had introduced a new logo earlier this year, with only one square on each side of the T, but the old logo continues to adorn the front of Bayern's jersey.
The same name and number fonts from the 2021-22 kits will feature on the back of the 2022-23 kits. The shirt will also feature a golden shield mid-chest with a special "Serienmeister" logo commemorating Bayern Munich's 10th consecutive Bundesliga championship, which they wrapped up on Saturday, April 23, with a 3-1 win over Borussia Dortmund. That logo will also appear under the golden Bundesliga logo patch on the right sleeve that defending champions have the privilege of wearing.
Bayern players celebrated in T-shirts and hats bearing the commemorative logo following their title-clinching win.
All of Bayern's 2022-23 kits will feature five stars above the club crest. The club were allowed to add a fifth star after winning their 30th Bundesliga title in 2020-21, but they only appeared on Bayern's home kits in 2021-22.
The shorts that go with the jersey are solid red, with white Adidas stripes. The socks are red with white Adidas stripes on the cuffs, plus two white stripes around the middle with "BAYERN" written in between. A white Adidas logo appears on the back.
Bayern Munich will wear the new kits in their final home game of the 2021-22 Bundesliga season on Sunday, May 8, when they host VfB Stuttgart at Allianz Arena.
Bayern's women's team will sport the same home kit design in 2022-23, but with a different sponsor. The logo of financial services company Allianz will feature on the front of the women's team's jerseys.